Callahan Auto Parts was founded in the 1930's by Tom Callahan Sr. The company enjoyed a long and successful run for over 60 years but by the time Tom Callahan III was put in charge, its future was in question. On one hand, they were facing stiff competition by a rival auto parts maker whose "on the box" guarantee was luring previously loyal customers. The other problem facing them was that they lost the financing needed to open their new brake pad division, without which they would likely fail. Making matters worse, the bank sought immediate payment of all outstanding debts following the death of Tom Callahan Jr. Unable to recover the market share they once enjoyed, likely due to incompetence on the part of the new leadership under Tom Callahan III, on March 31, 1995, Callahan Auto Parts went out of business and sold off the remaining assets at auction. Since then, the factory has slowly evolved through decay.
It is now guarded by a menacing tan colored minivan parked out front and its driver who snores comfortably inside a closet-sized shack behind tinted windows. Despite such a heavy security presence, some fools still travel through the urban jungle in hopes of reaching the condemned and hollowed spaces within the Temple of Grime, under whose roof many craftsmen once labored. Back then, electricity still pulsed through the walls like veins carrying the lifeblood of modern industry. When the heart stopped, the electricity ceased to flow and valuable organs were torn from their host. The factory now produces only silence and black grime covers everything. It gives a false surface to the floor and cakes into your boots, weighing them down with every step. Grime stalactites cling to the surface of the machines that once stirred their constituent particles into being. Contaminants mix with rain water to form multicolored pools of sludge on the factory floor where ragged doorway curtain strips sway back and forth with the wind. Vague silhouettes of passing vehicles streak past the dirty windows and the sharp and hurried commotion of the traffic from the streets is dulled into a drone whose rumbles and shrieks find their way inside the rafters and echo down the halls and get lost in the dark spaces.
Click here for video.
(Callahan Auto Parts circa 1995)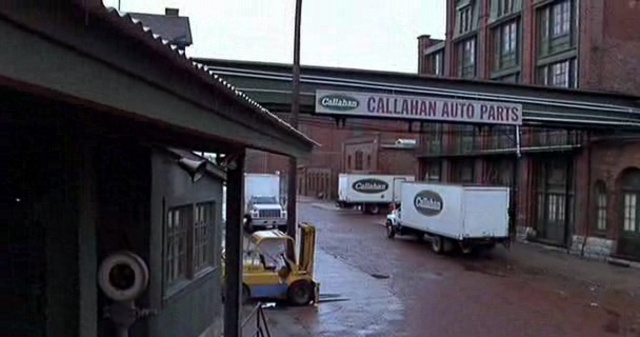 (Callahan Auto Parts circa 2015)