Tuesday, August 24, 2021
St. Elmo colorado was originally named Forest City but they were allegedly denied the rights to the name by the post office due to the fact that there was already a Forest City California. I have my doubts as to the truth of this story, however, since there's a lot of towns across the country with the same name. Either way, it was renamed to St. Elmo in 1880 having been named after a novel published by Augusta Jane Evans in 1866 which was very popular at the time. Less than 6 months after its founding, the town boasted two sawmills, a smelter and concentrator, 3 hotels and 5 restaurants. St. Elmo quickly reached its highest ever population of around 2,000 inhabitants about a year after it was founded and by the 1890's, it had its own telegraph office, general store, newspaper office and school house along with several more hotels, saloons and dance halls along with a drug store, meat market, firehouse and several banks. In 1880, the Denver, South Park and Pacific Railroad laid track into town and beyond, eventually constructing the 1,845' Alpine Tunnel through the Continental Divide just southwest of town. At one point there were 150 patented mine claims in the area but most of the wealth came from the Mary Murphy Mine.
The Mary Murphy Mine operated continuously from 1870 to 1925 and produced roughly 220,000 ounces of gold which would be worth over $392 Million today. The mine extracted on average 70-100 tons of gold and silver ore each day and employed more than 250 men at its peak. Evidently, the mine was named after the wife of one of a pair of Murphy brothers who were prospectors at the time and who discovered gold here. Johnny Murphy left his brother in charge of both prospects while he went back East for his wife Mary. Evidently, the brother left behind got drunk and lost the prospects through some deal that had gone bad. When Johnny returned, he found his brother lying in a back room of a saloon having been stabbed and beaten and without ownership of the prospects. Mary Murphy herself was last known to be washing dishes in a Pueblo Hotel while her namesake mine made lots of other people rich.
Eventually the remaining ore became more difficult and costly to mine and in 1890 a fire destroyed much of the main street businesses. By 1891, the population dwindled to 500 residents and the repeal of the Silver Act in 1893 caused the price of silver to plummet, leaving even the best producing mines unprofitable and subsequently abandoned. By 1910, the Alpine Tunnel was abandoned and trains stopped arriving to St. Elmo altogther by 1922. The Mary Murphy mine closed in 1936 and by 1943, St. Elmo only had two full-time residents which were the siblings Annabelle and Tony Stark relatives of the Stark Bros who ran the Stark Bros Store which remains today as one of the most prominent buildings in town. Finally, postal service ceased in 1952 following the death of the postmaster. Since then, ownership of much of the town has been willed down generations to the current owner who has managed to preserve many of the original buildings that remain today.
St. Elmo is the most easily accessed/most complete/most photographed of all the Colorado ghost towns. I am normally averse to the more well known/touristy locations but I had the opportunity to rent a room at the "Ghost Town Guest House" recently so I thought there may be no better place to stay the night than in a ghost town, even if it's something of a tourist trap. Having done so, I can confirm that this was an excellent choice. The Ghost Town Guest House is the nicest B&B I've ever stayed at and I've never eaten better on any trip/vacation than here. Kudos to the proprietors of this establishment.
These days, the Ghost Town of St. Elmo is quite heavily secured/monitored by video cameras. Only a couple of the buildings are opened during the day and don't offer much to see of interest inside of them anyway. With the buildings being so old and fragile and the rather high security in place (for a ghost town anyway), I didn't bother trying to coax unapproved entry by the usual means. Furthermore, I happened to encounter the lady who apparently owns most of this town (and who acts like she owns more still) and she was not a very pleasant person to have even a casual conversation with so I didn't bother trying to ask about getting any sort of tour inside the buildings because I refuse to suck up to a crotchety self-important caretaker just to get a couple extra photos of the place they happened to inherit regardless of how well they've managed to maintain/restore the site. Besides, I had plenty of other stuff up my sleeves for later on in this trip... Instead, I satisfied my adventuritis in St. Elmo, after seeing what the town itself had to offer, by exploring all the nearby points of interest I could make it to which most other tourists don't bother venturing to while out here. This involved a fair amount of hiking and a long drive down a rough/gravel 4x4 road. Stops included the Mary Murphy Mine Tram Building as well as the Allie Belle Mine. Then there was the "Ghost House" hidden in the woods along with a long forgotten mine up on the hill a ways from the Ghost House. Overall, it was worth the trip/overnight stay out here, even if it was rather touristy and mostly locked up. There was more I could have seen and done on the mountain and in the valleys, but there's only so much time in a day. The Guest House alone provided better accomodations than most you'll find elsewhere and the proprietors were amazing hosts. Having said that I don't think I'd bother taking a day trip out here to fight over crowded parking spots with the thousands of other tourists who visit daily, though, as it gets pretty crowded from mid morning through late afternoon and the most interesting buildings are locked up tight anyways. I decided to try shooting the place by night just to provide a different perspective of St. Elmo than the countless photos already existing online have to show. Being out here alone at night was a worthwhile experience at least.
Sources: Wikipedia, https://www.coloradoghosttowns.com/marymurphy-mine.htm, httpss://coloradoencyclopedia.org/article/st-elmo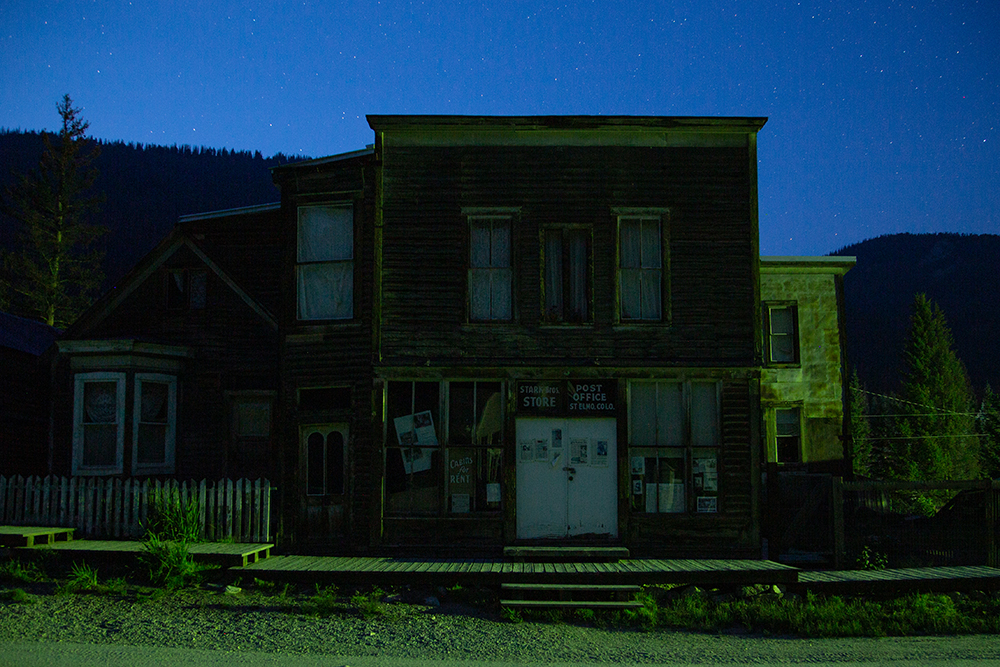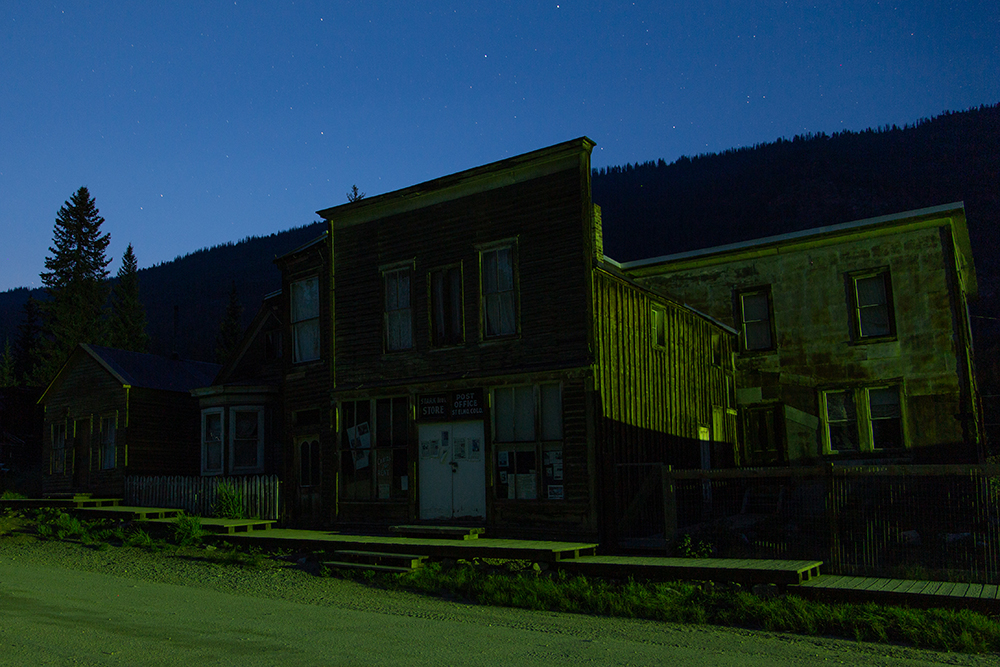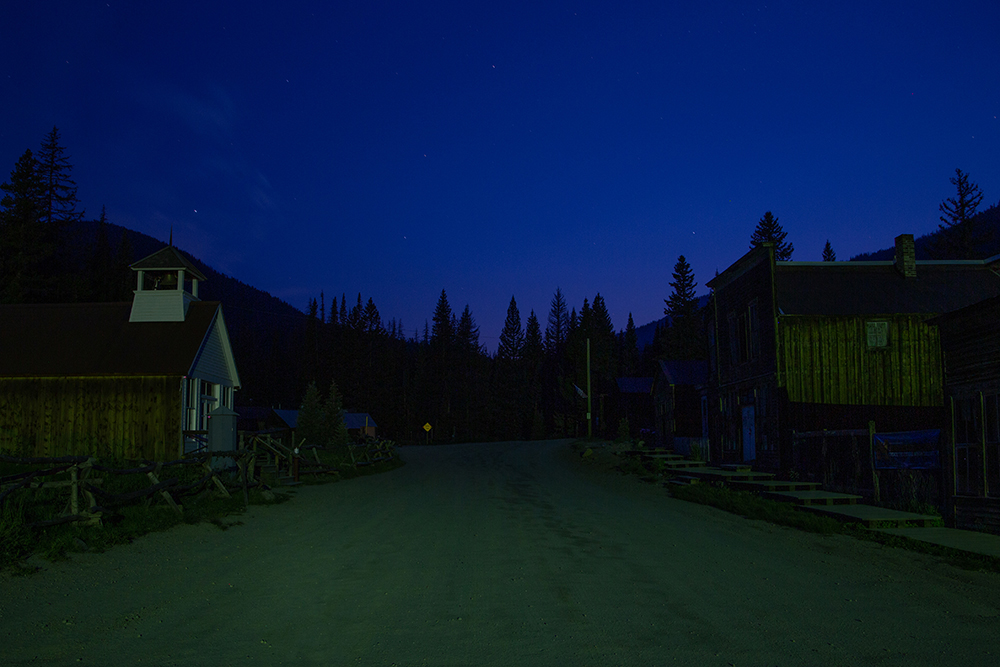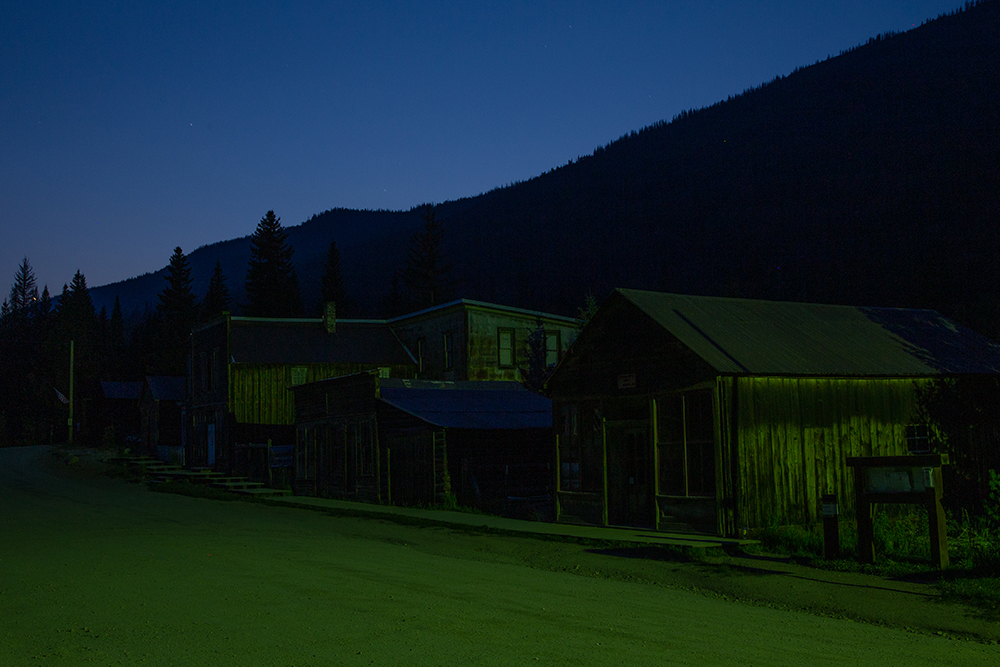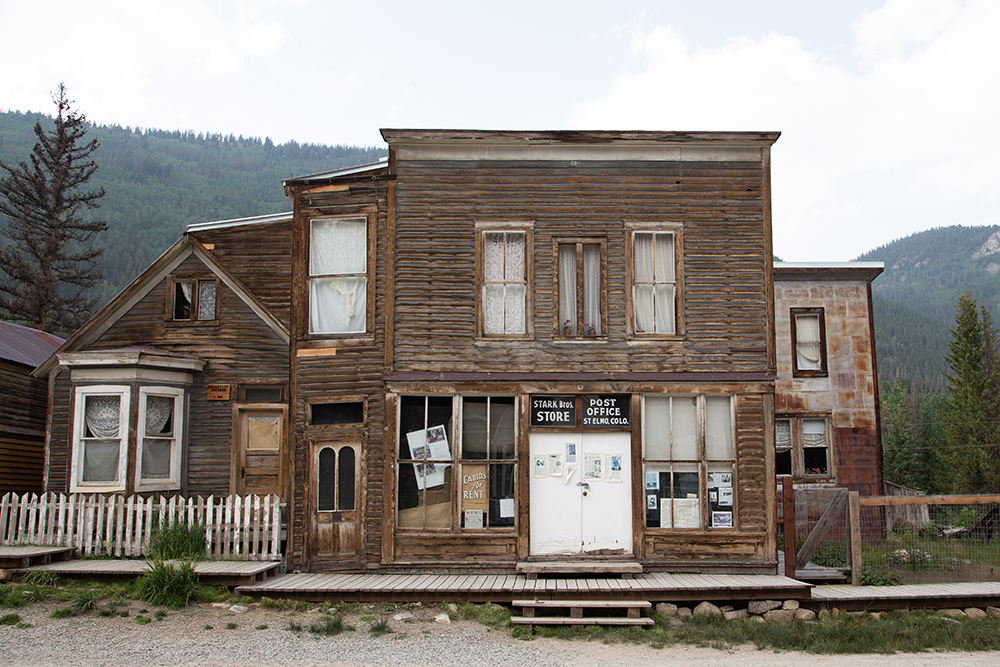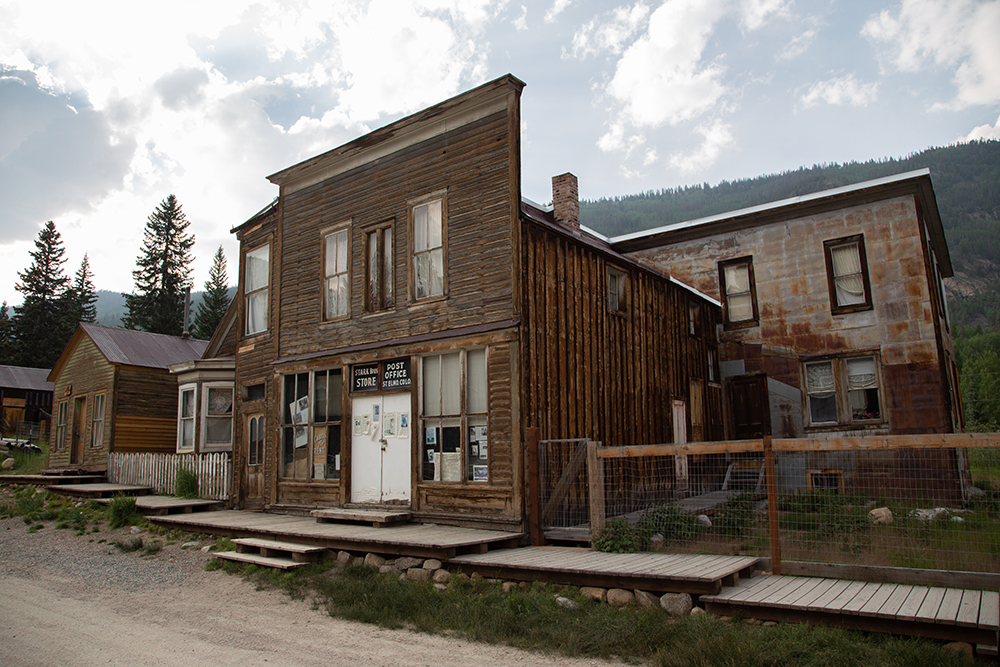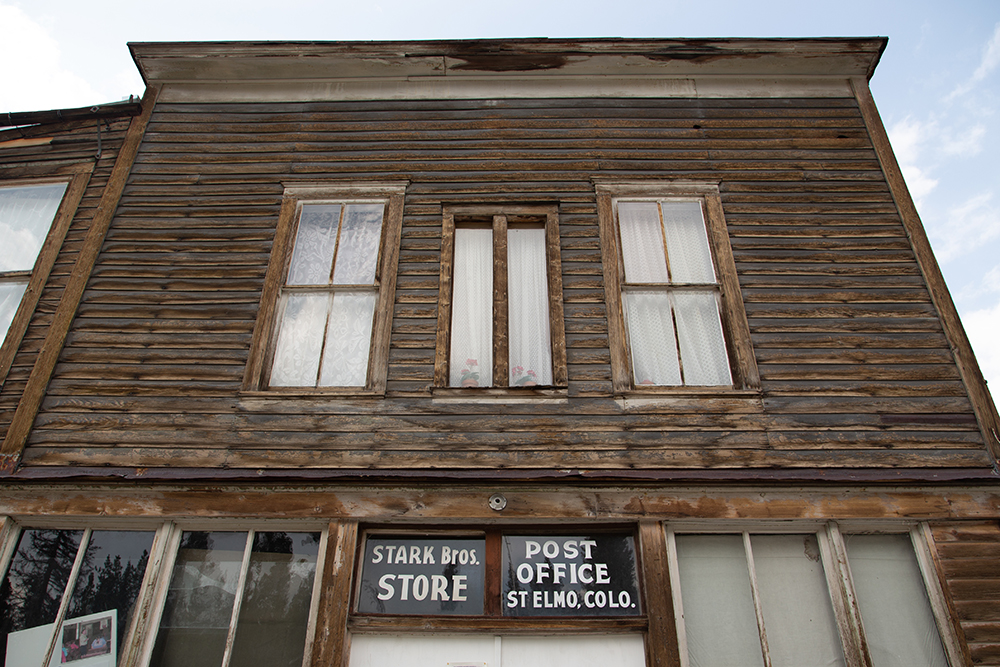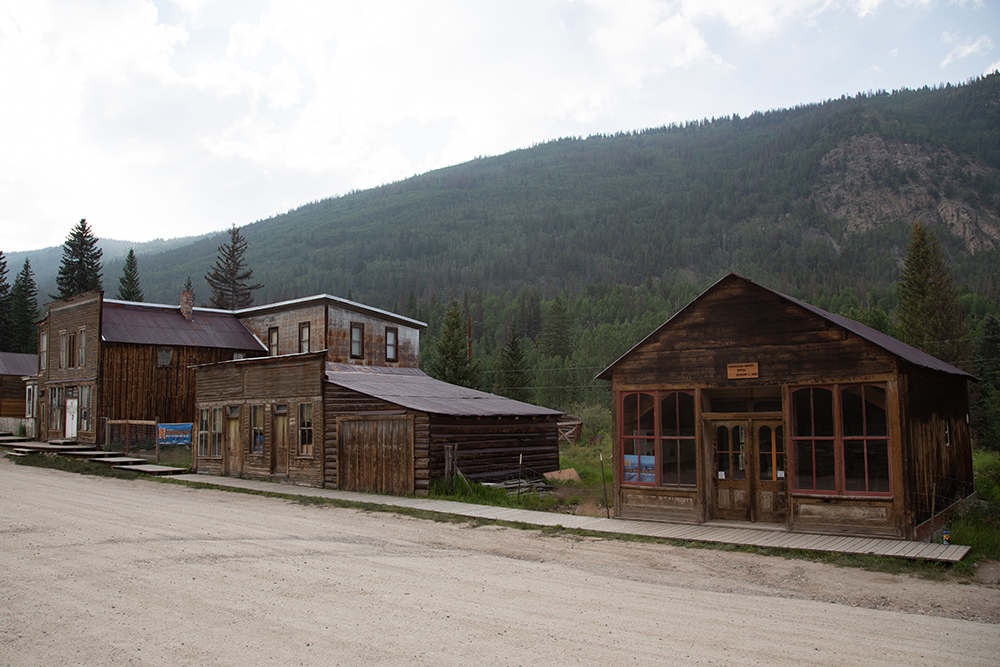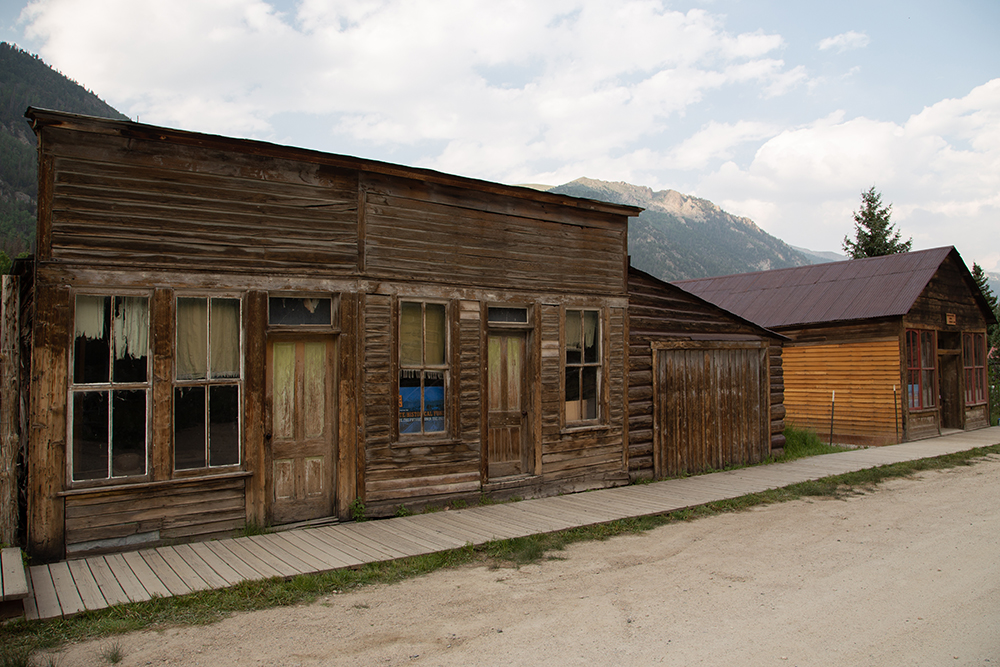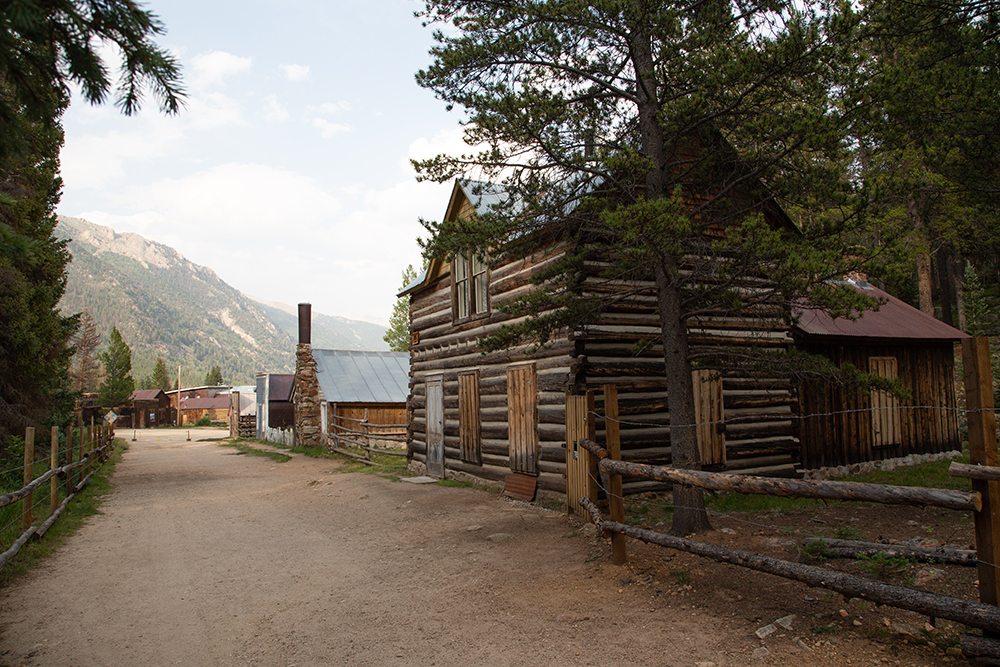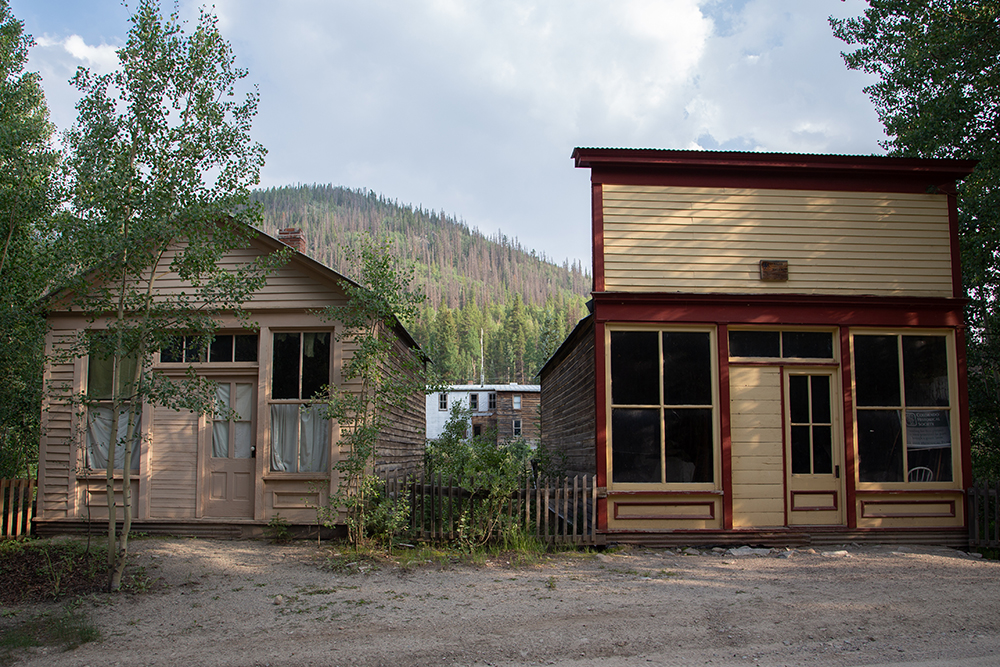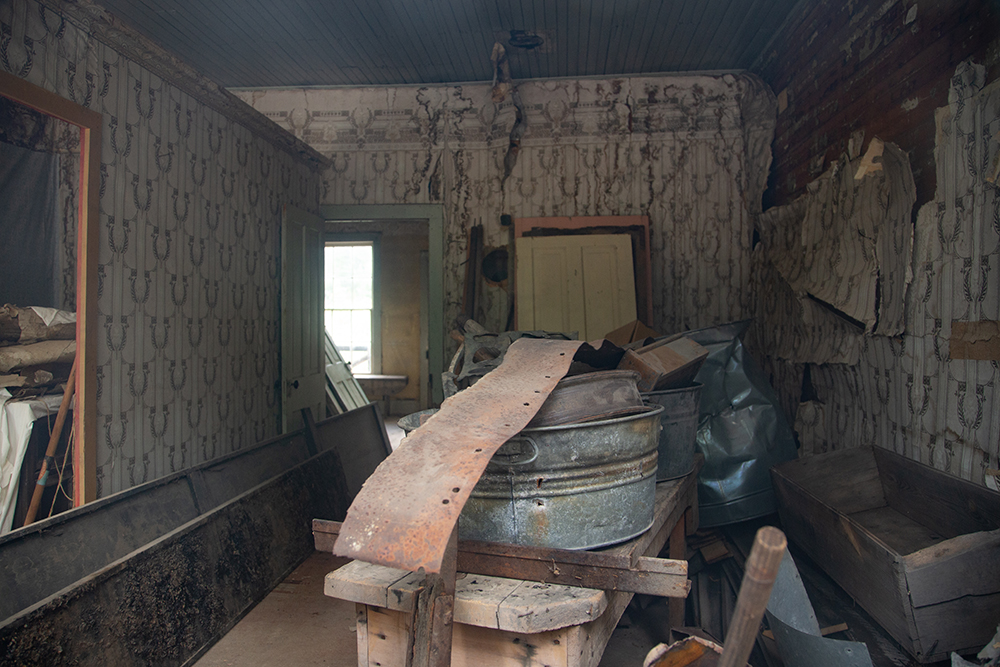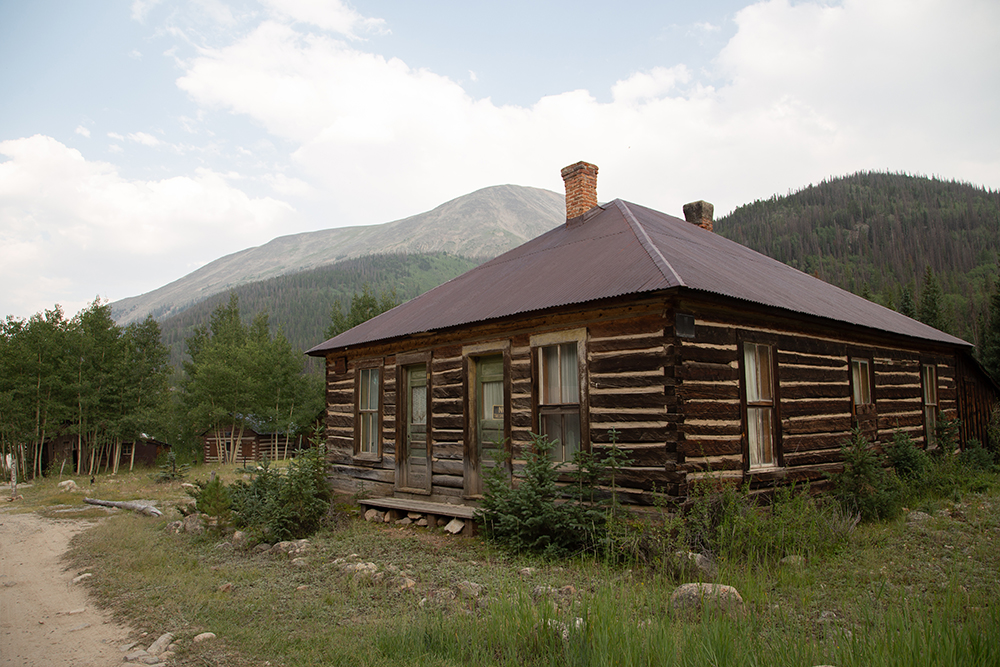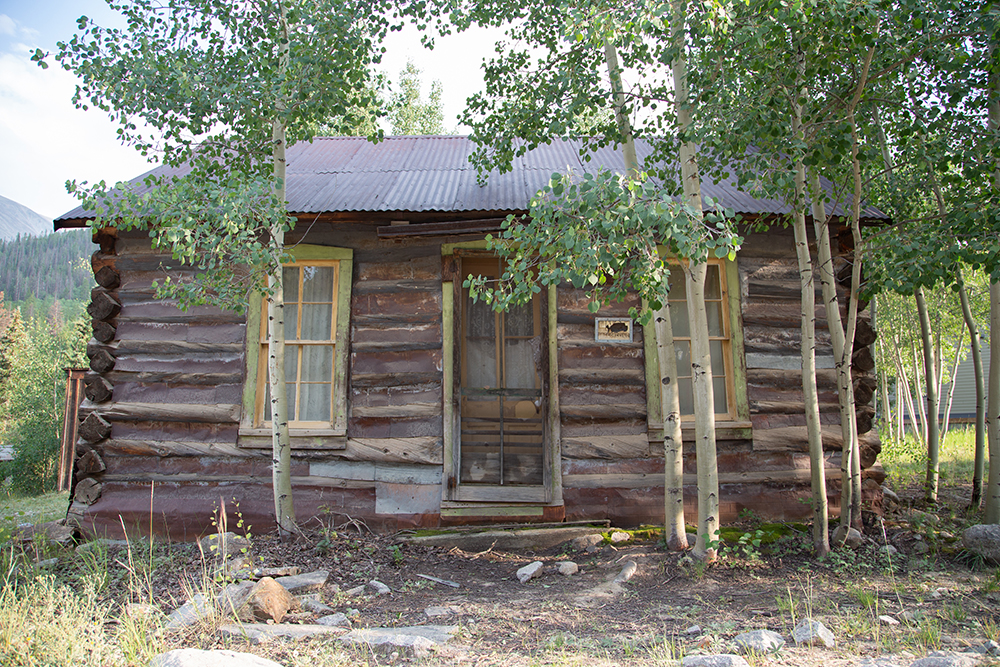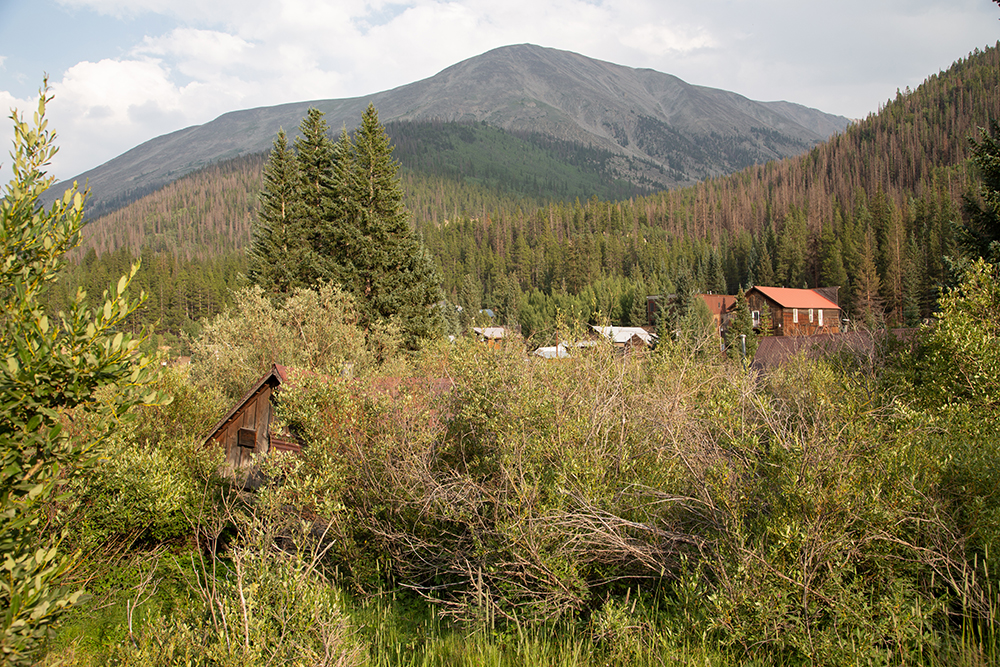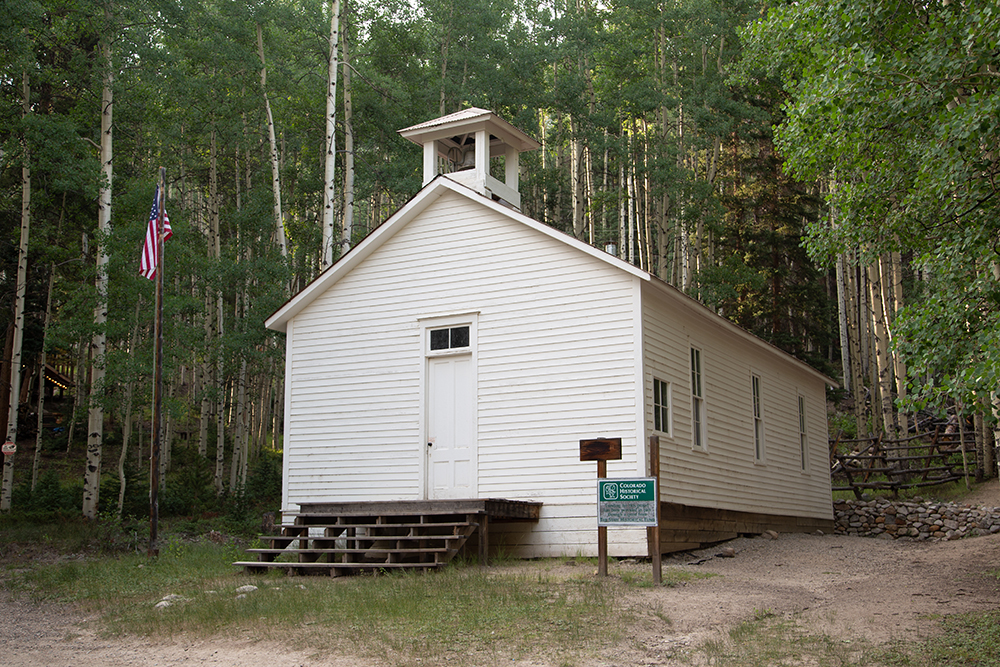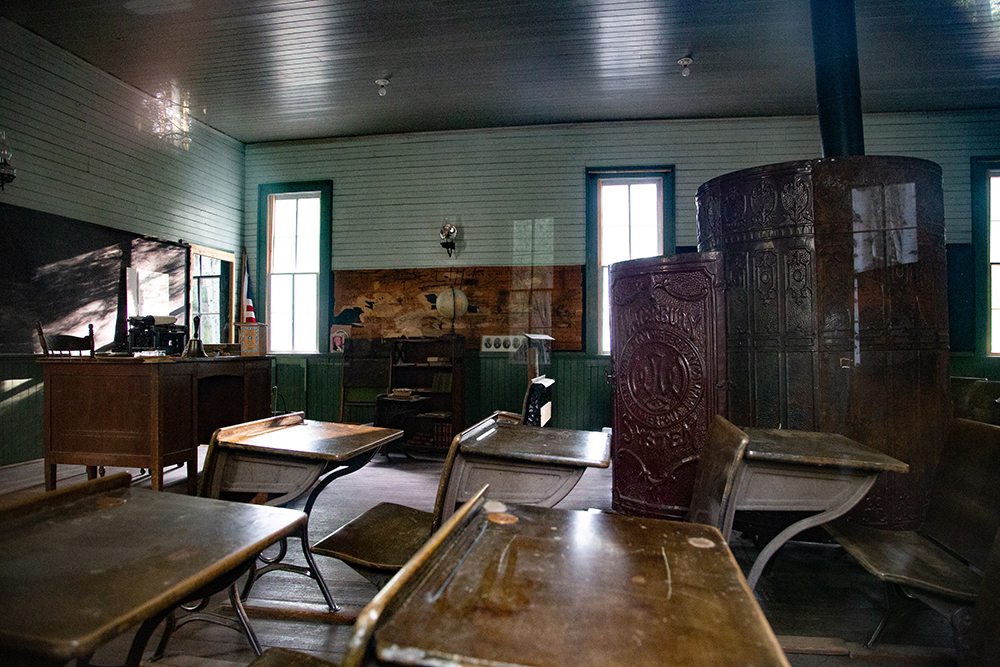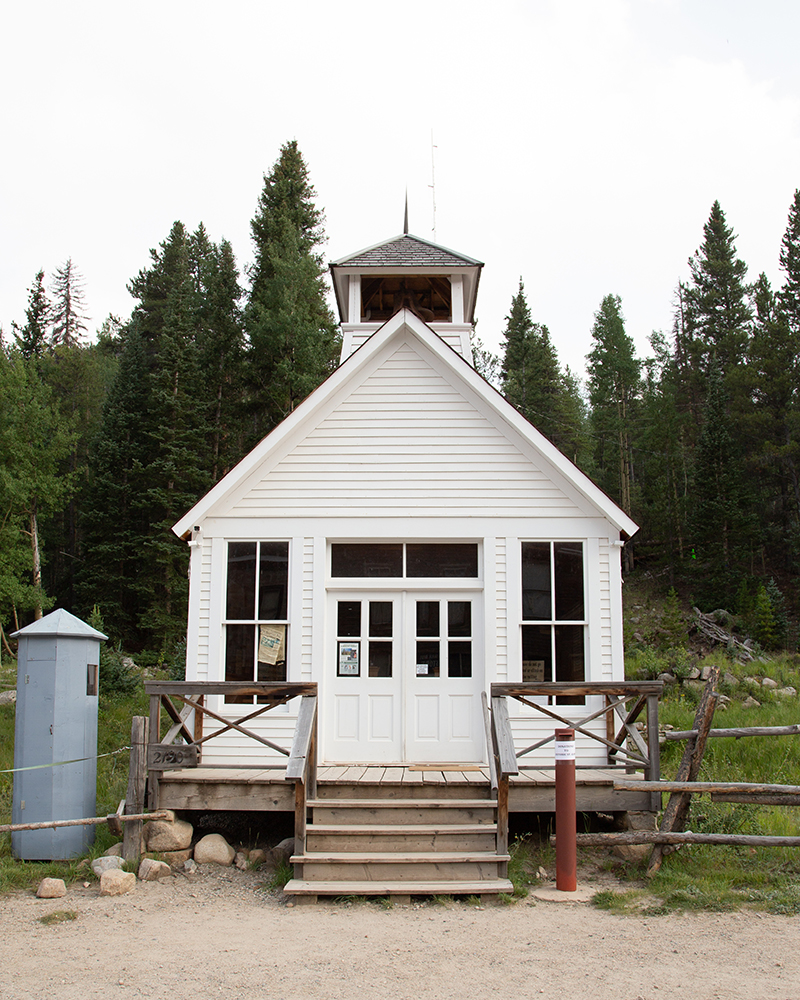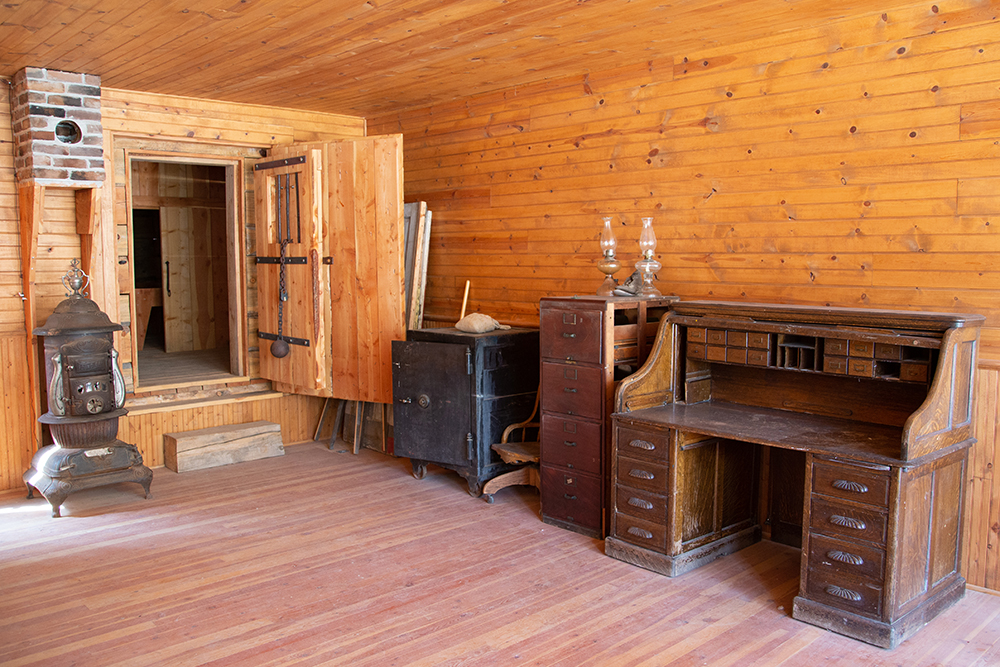 The Ghost House
The Ghost House is a lesser known St. Elmo structure hiding up in the wooded hills above town. Being isolated does give it some slightly spooky vibes, I guess, but supposedly there was actually someone by that last name who either lived here or provided funding for the house to be built. If you look closely, you can see that the roof is made of various food tins and assorted scrap metals. Just behind the house lie the ruins of a rough log cabin whose purpose or original owner are long forgotten.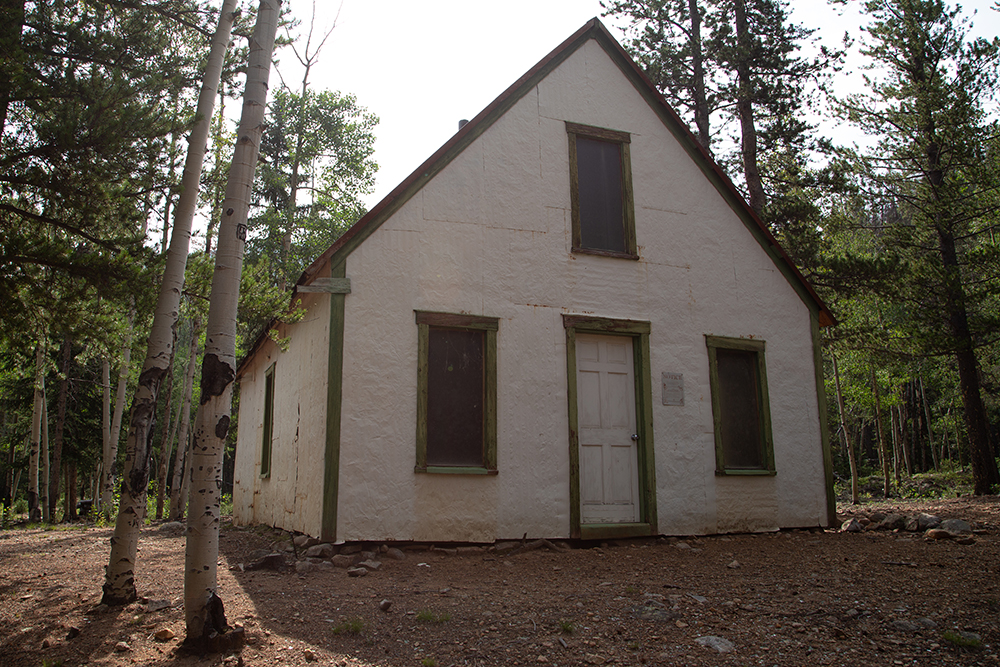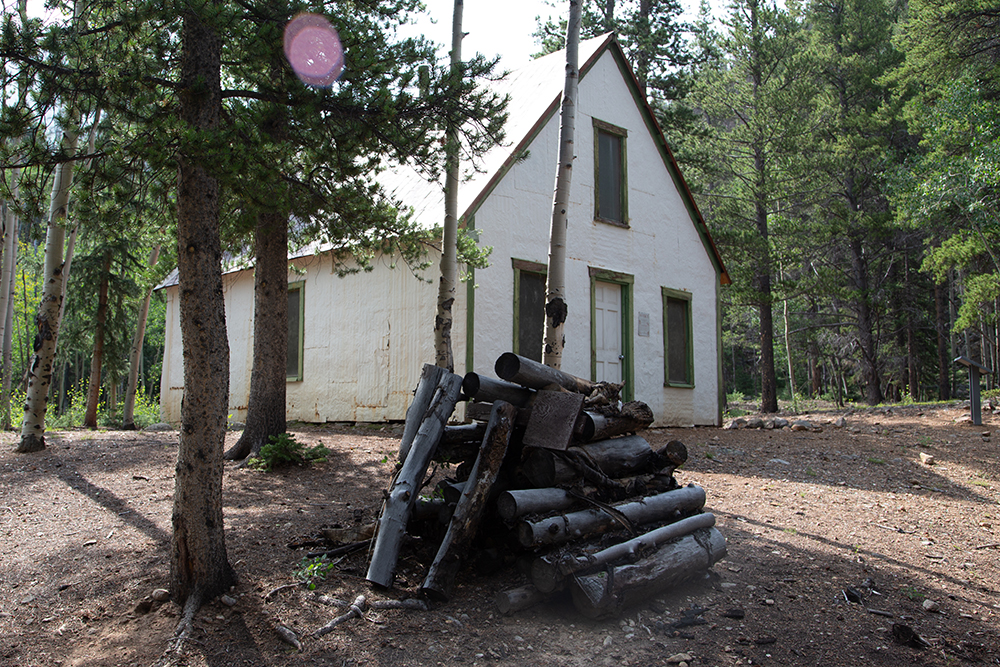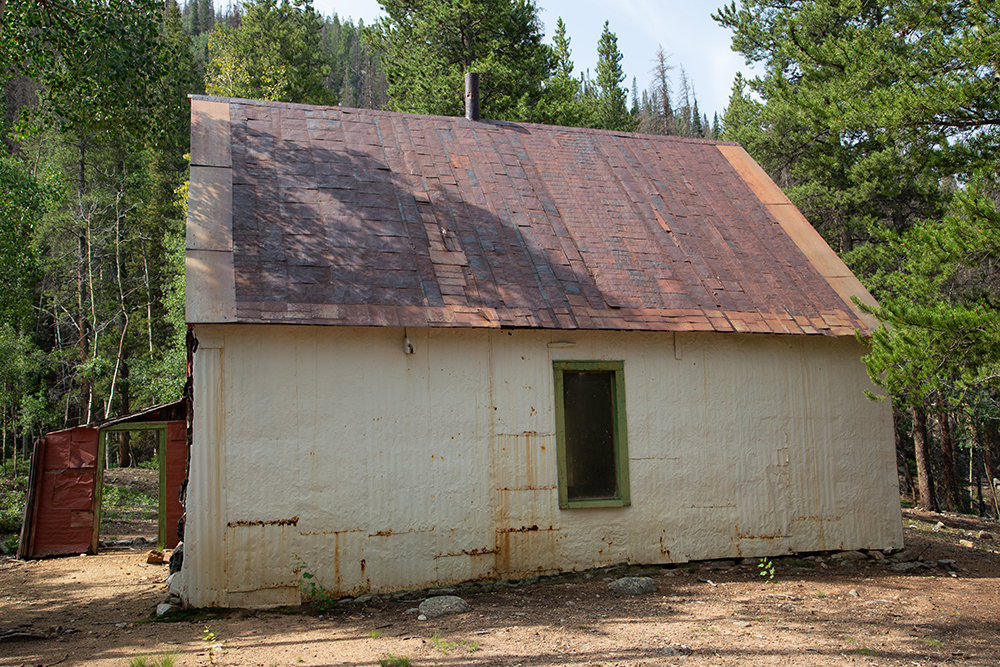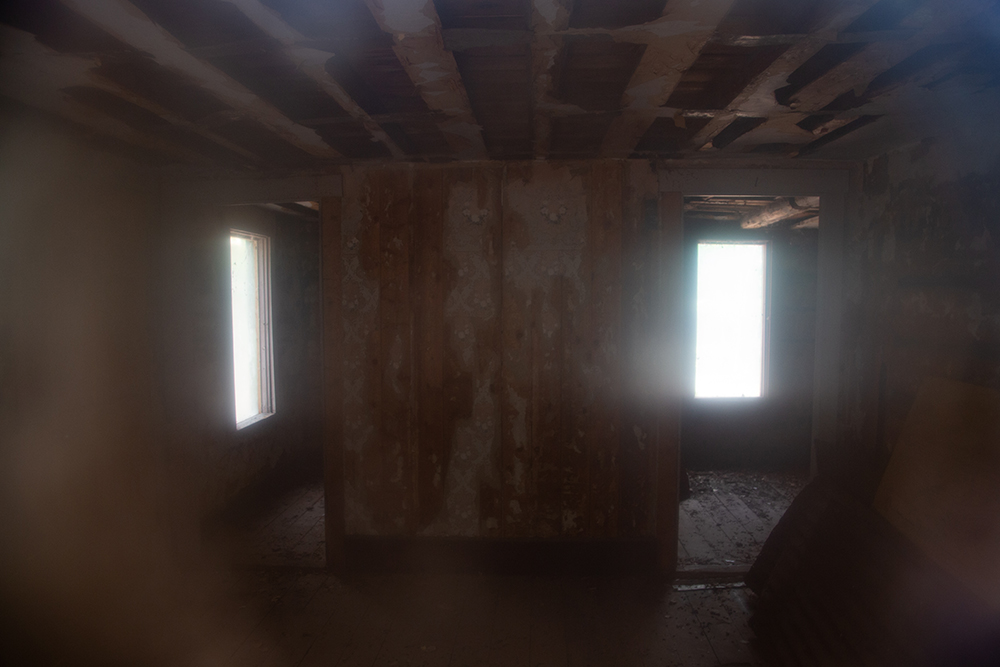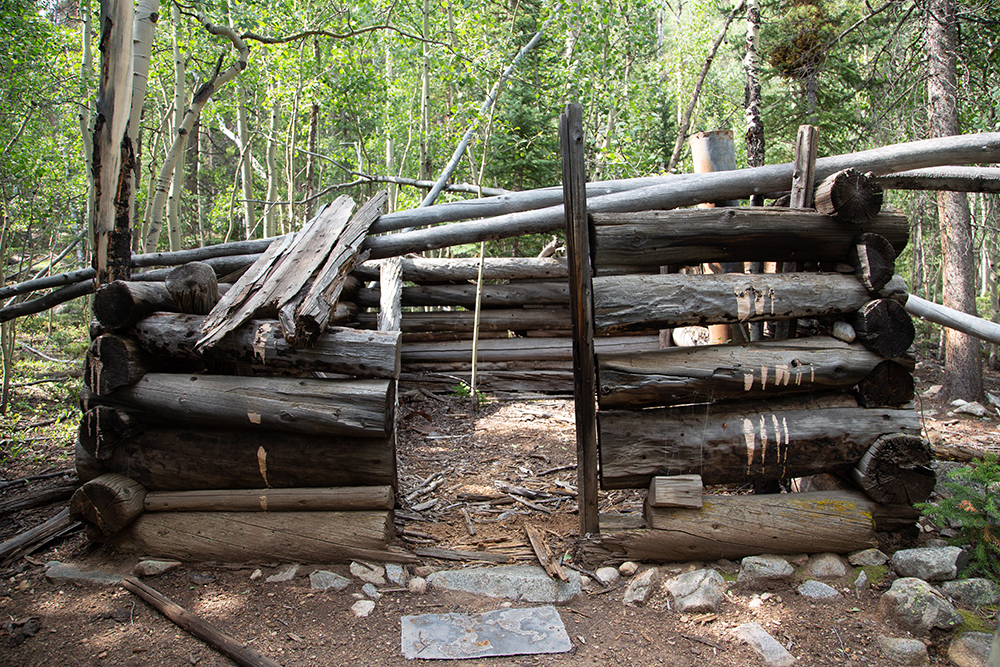 The Hidden Mine
The Hidden Mine is another of the lesser known St. Elmo sights and sits on a hill overlooking the valley. It has been thoroughly sealed up but you can still peek into the main tunnel.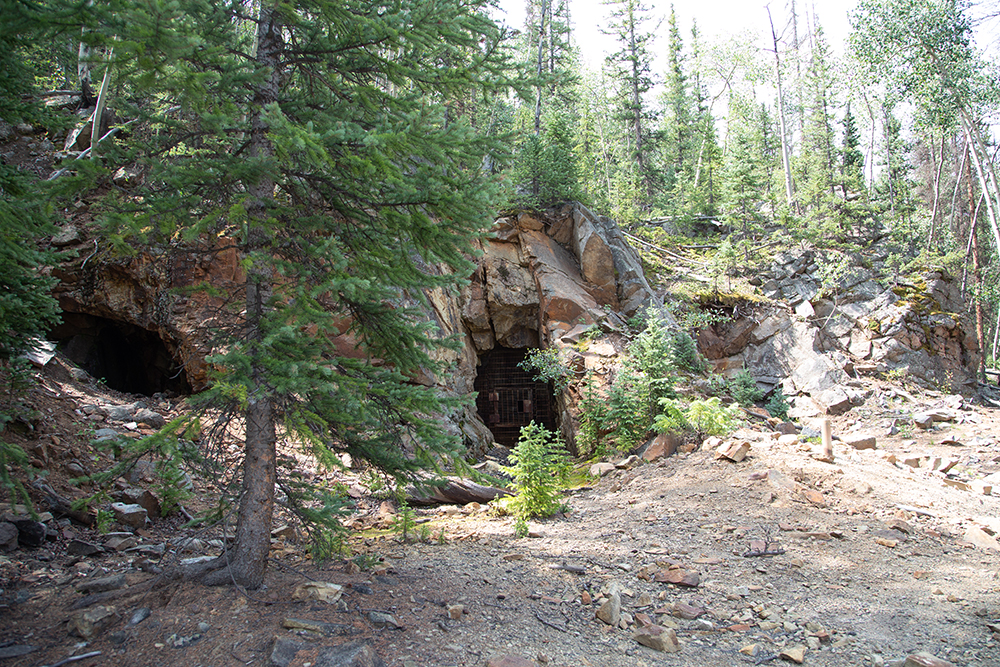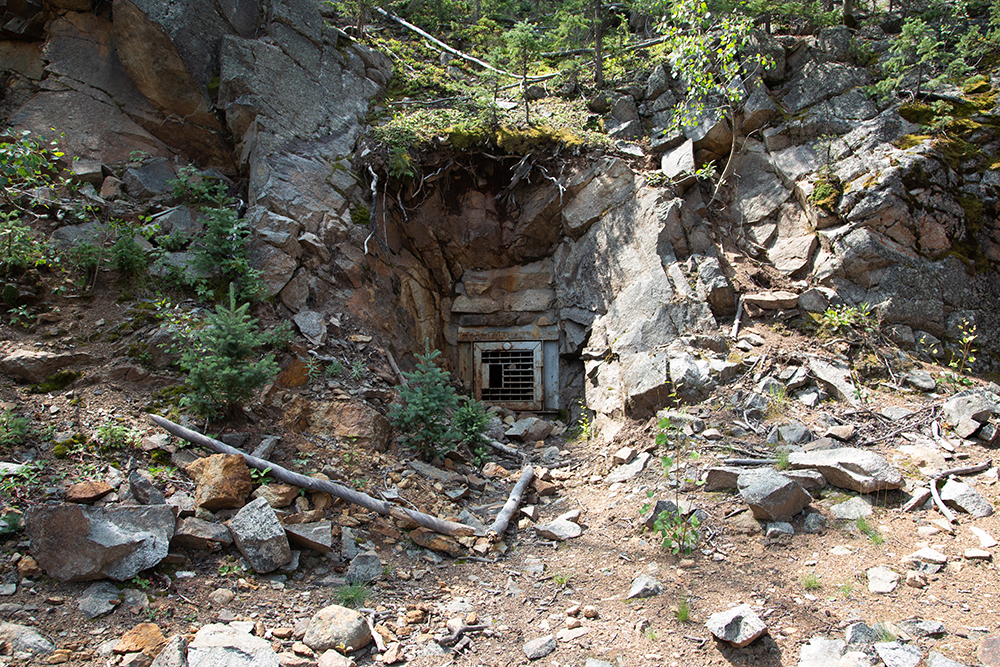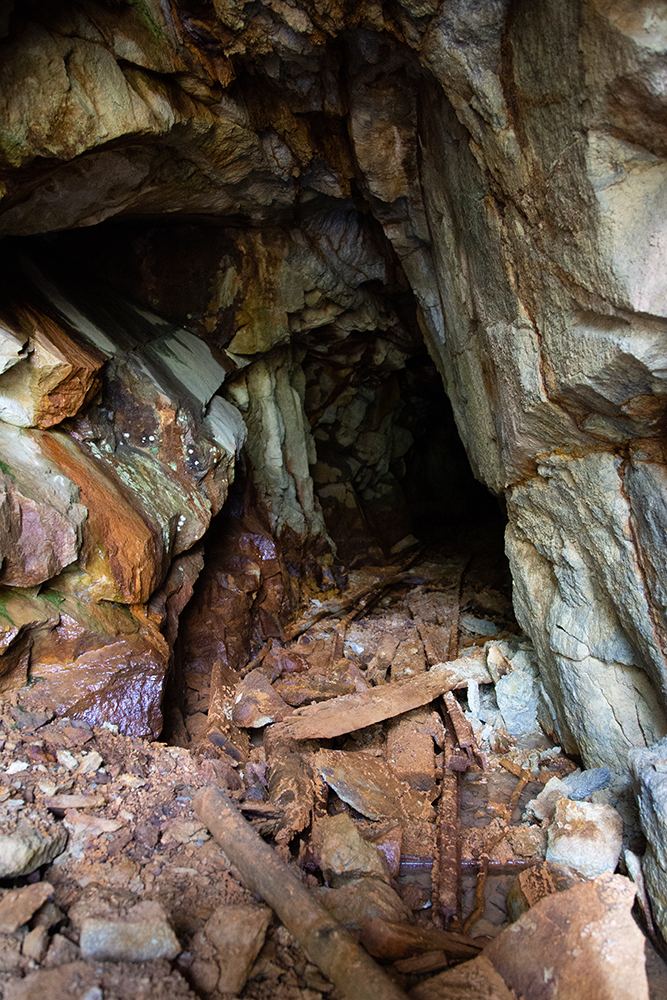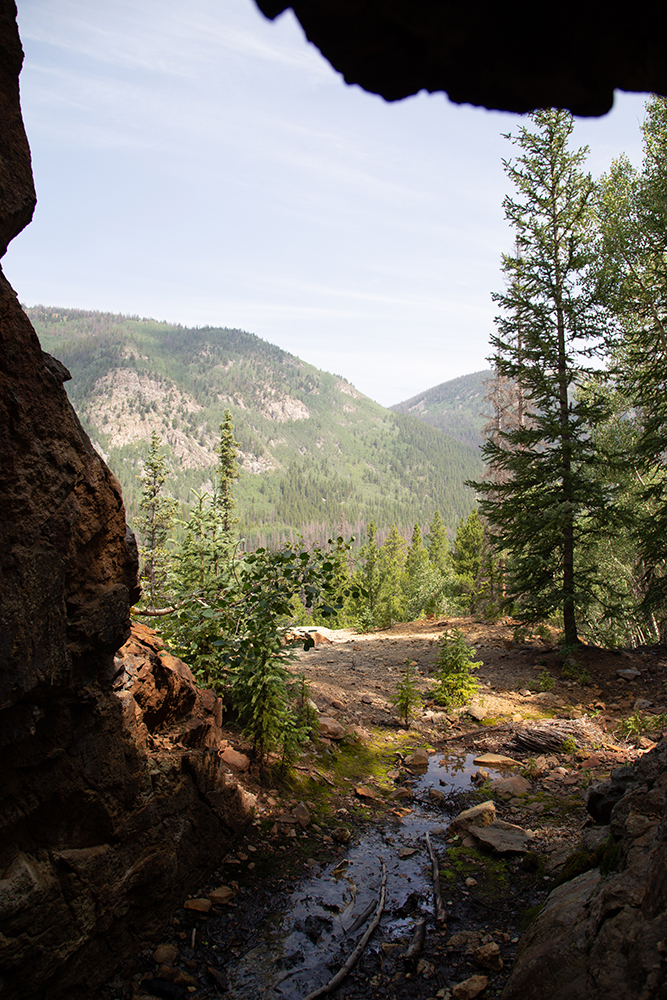 Mary Murphy/Allie Belle Mine Structures/etc
These structures were visible in satellite imagery so I wanted to check them out but I found that there's not much left of them at all. Only a tiny cabin and one larger cabin remain standing (just barely) and the ore loading building which had been famously lopsided for years seems to have finally collapsed just recently. The tram building further up the mountain appears to have a new roof and walls installed recently. Nearby is what I assume is one of the original entrances to the Mary Murphy mine. I have however learned that the mine itself was permanently sealed by the EPA about 5-10 years ago due to chemicals leaking into the nearby waterways and killing scores of wildlife. There appear to be additional structures on top of the mountain but I couldn't justify the time/hike on this trip. Maybe next time. Then again, considering the dangers inherent to exploring abandoned ~150 year old wooden framed mines with shafts extending over 1,000 feet straight down.. maybe not.