Wednesday, December 29, 2010
This busy stretch of road was in fact named after an historic cave and spring that were destroyed in the name of progress in 1962 when Interstate 70 was developed through Saint Peters, Missouri. Googling this proved futile and it took a lot of research from a variety of obscure sources to uncover this information. For example, I personally dug up these newspaper articles from the archived originals and posted them online.
I have decided to share this because there's really nothing left of it. Aside from some drains and tunnels running underneath the highway, one wouldn't find much of interest here without knowing the history of the spring. Even then, as we learned, the spring has been rendered unrecognizable and therefore, sadly disappointing.
According to the following article, discoveries of Native American artifacts were made and volunteers were invited to help identify and catalog them. It is unknown exactly what all was found.
"An underground man-made cave, through which water flows is one of the unsolved historical questions in this area... The first cave is about 30x12 feet and about eight feet high. The floor is of hand cut stone, some pieces being 12x24 inches. The walls are made of varying size stone and the ceiling is covered with large stones... The spring flows on the floor through this room. A small wooden door serves as an entrance.. At the opposite end there is a decided drop to another stone built room about 60 feet in legnth.. It is not known why and by whom this was built... The area was once home of the Osage Indians as Indian artifacts found in the area have been traced to that tribe.."
"In the 'Cosmos', dated July 2 1901, a news story told of the drought year and that the council ordered every water wagon to carry water from Cave Springs to the various farms. Lanterns were used to light the spring at night as the water haulers procession continued almost around the clock.."
"During a recent visit to the farm, Mr. Stile was very gracious and had a stone hatchet that had been plowed up in the field... The cave and the old barn are in the path of progress and will soon disappear. A Highway service road will be built within 12 feet of the home and farm will be divided by the road.."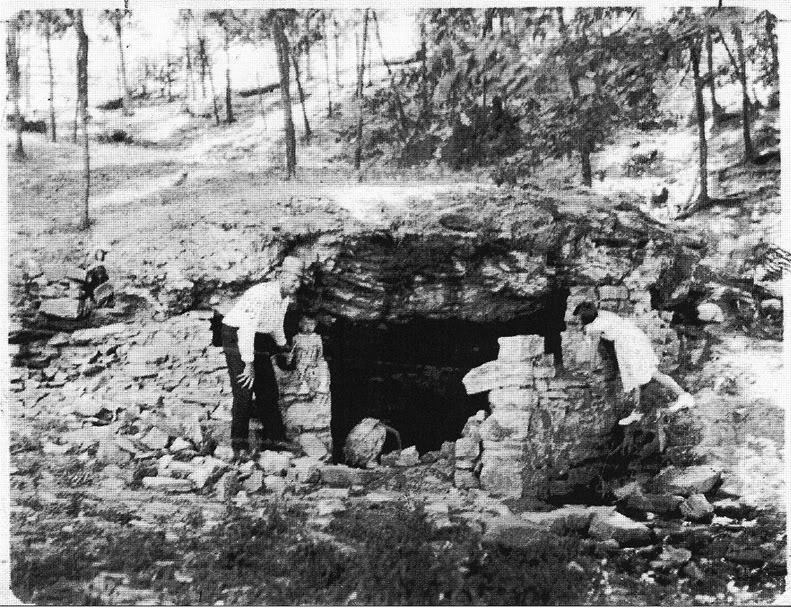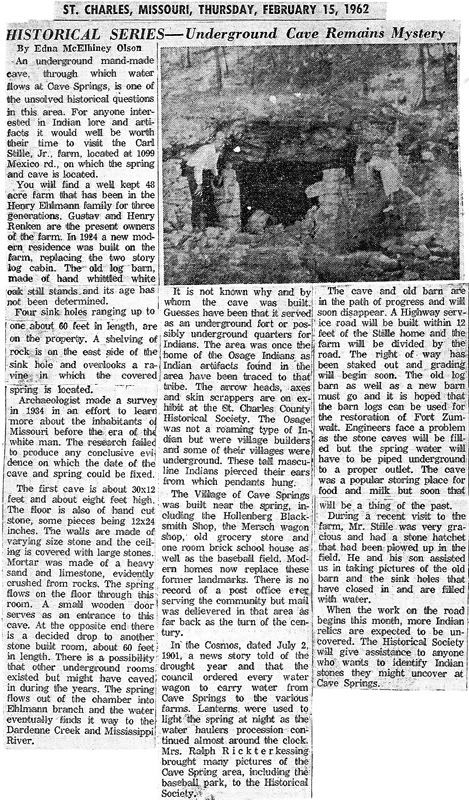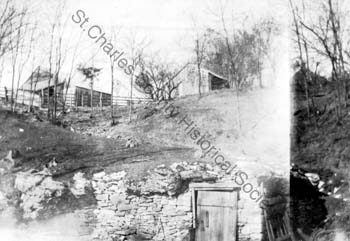 6-23-09
So close yet no cave...we entered the outlet: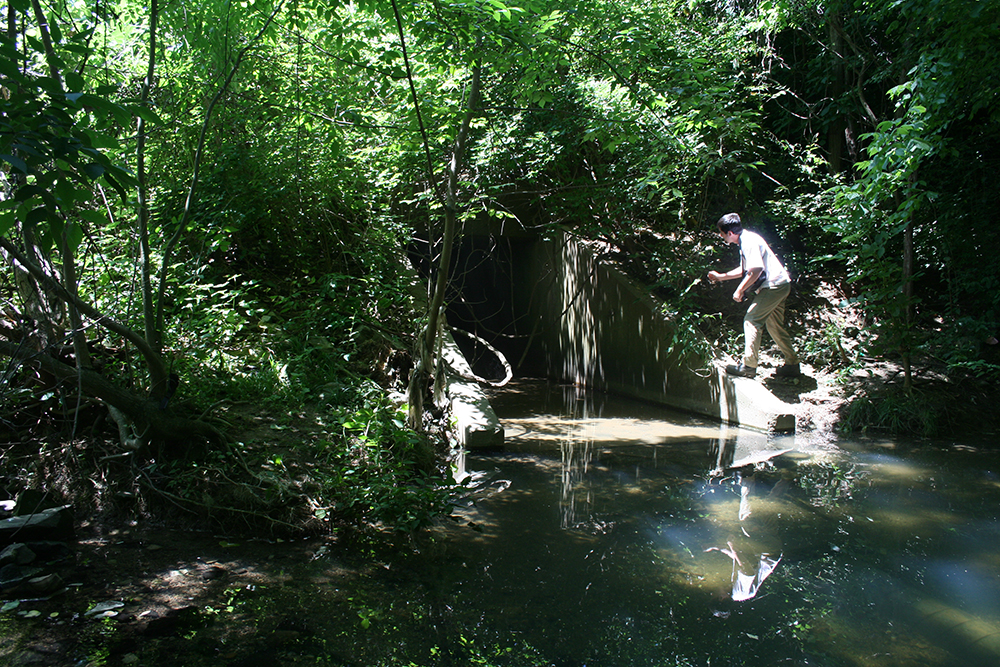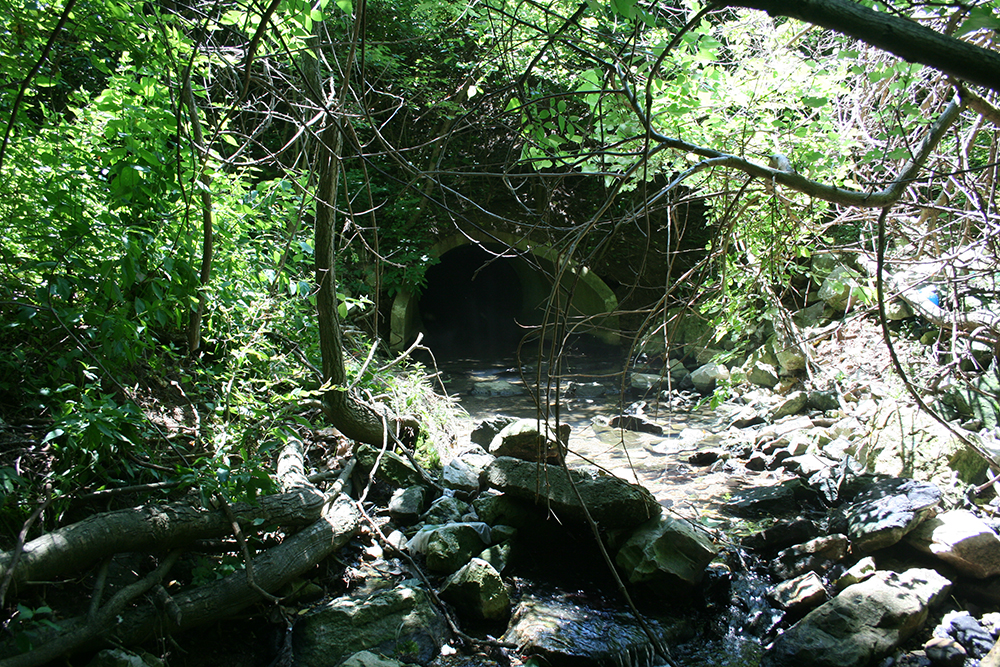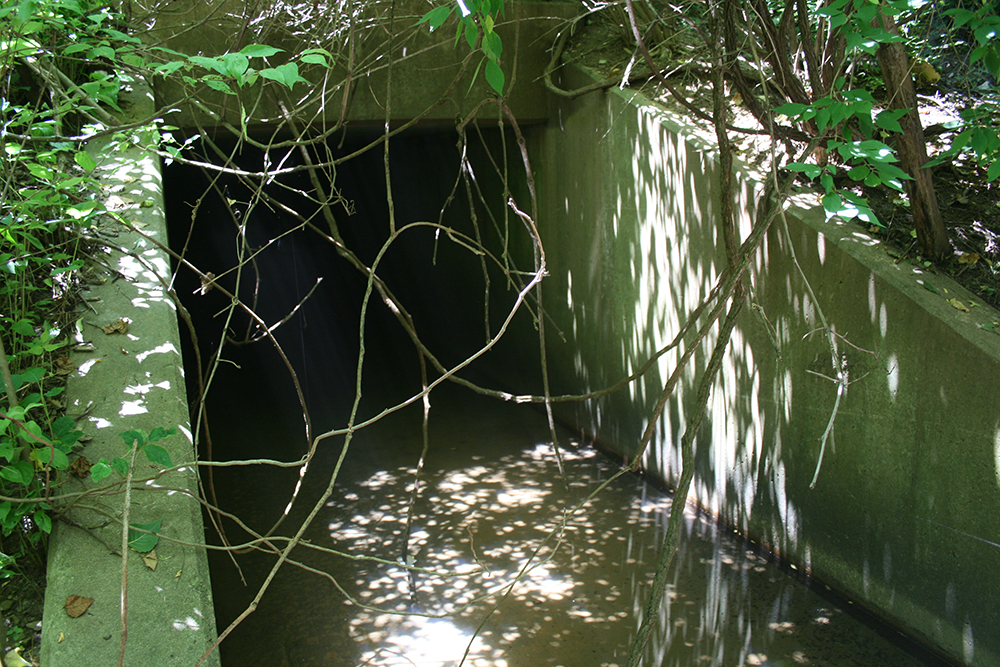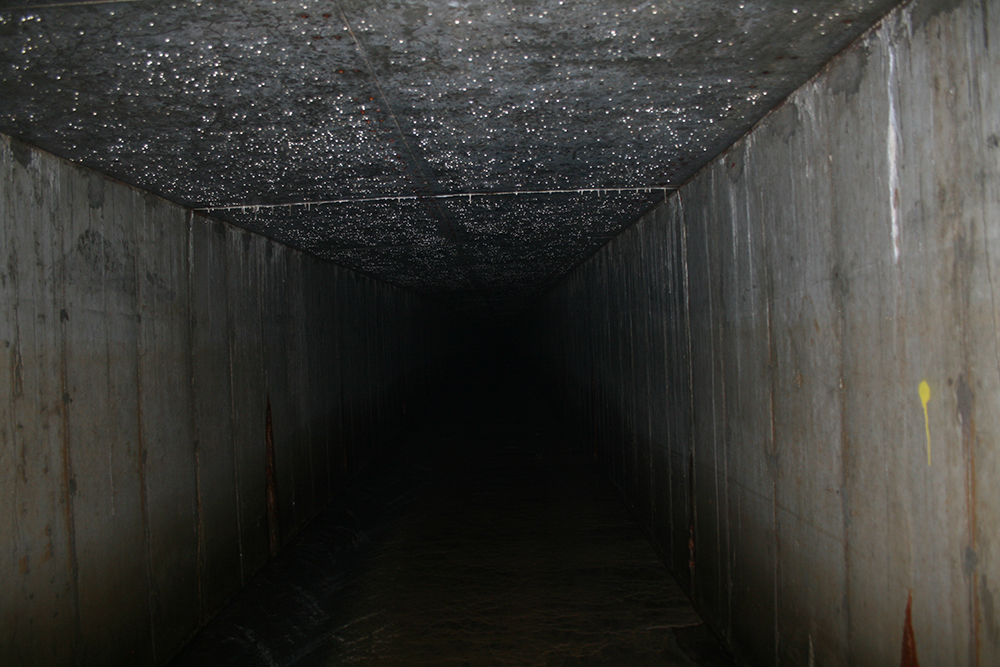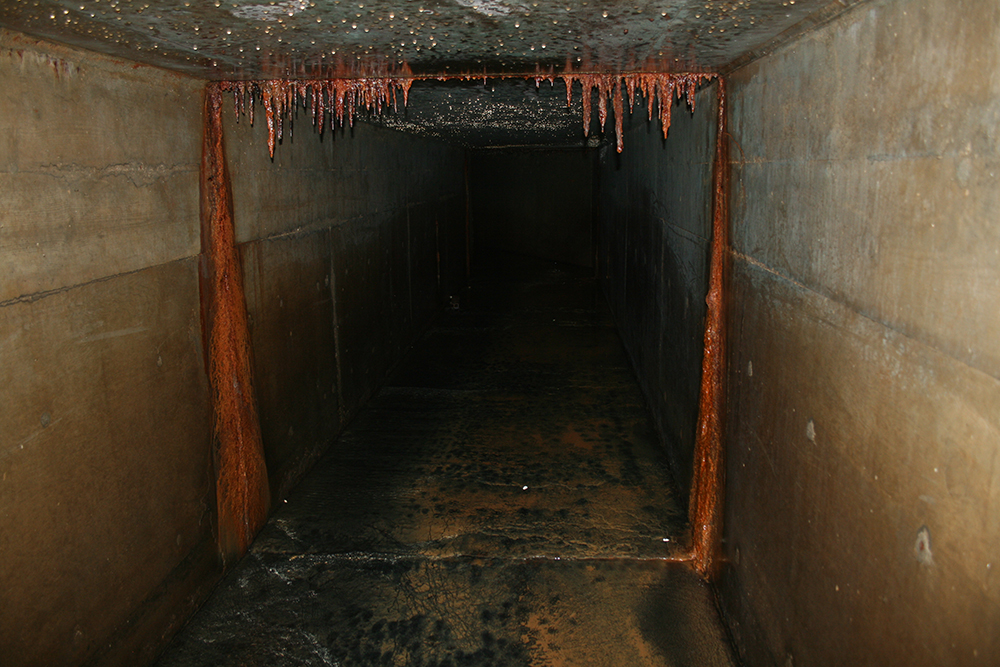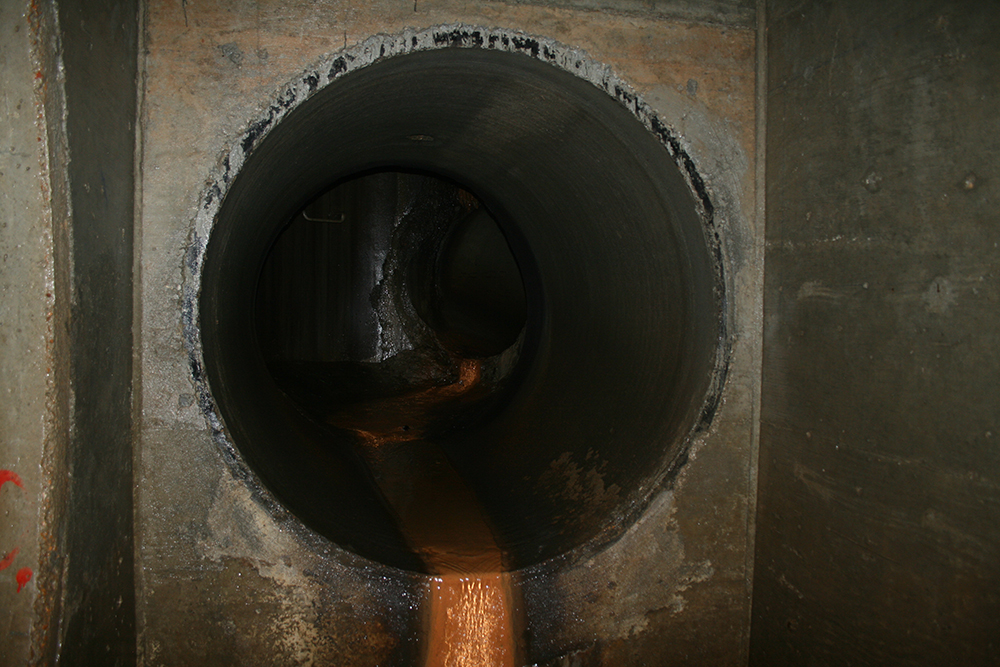 1-5-2010:
We started previously by entering the outlet. This time, we entered nearer the source and located what's left of it. I do not recommend anyone try to find it because it takes a lot of crawling through small tunnels and there's really nothing to see aside from what I have posted here. These pictures indicate a combined spring/storm sewer drain which runs below the highway and drains into a creek on the other side.
There was a steady flow of crystal clear water coming from a small tube purpose built and it's evident the designers of this duct accurately calculated the constant flow from its source, evidence that this is in fact the spring and not simply runoff. The bright orange of the clay here indicates also that this is groundwater. We explored the extent of navigable passages on either side of the highway around this intersection and unfortunately, we must conclude that whatever cave that may have been here is no longer.
The only thing left of the cave/spring is, therefore, the water flowing from the top right in the below pictures. The room in which this picture was taken is approximately 5'x5' and the tube with the water flowing out of it is approximately 12". Above ground, a short distance away and in precisely the direction this is coming from, is a filled in sinkhole.
Altogether, this is conclusive evidence of the existence of the real Cave Springs. Occasionally, street names are but a reminder of their long forgotten namesakes.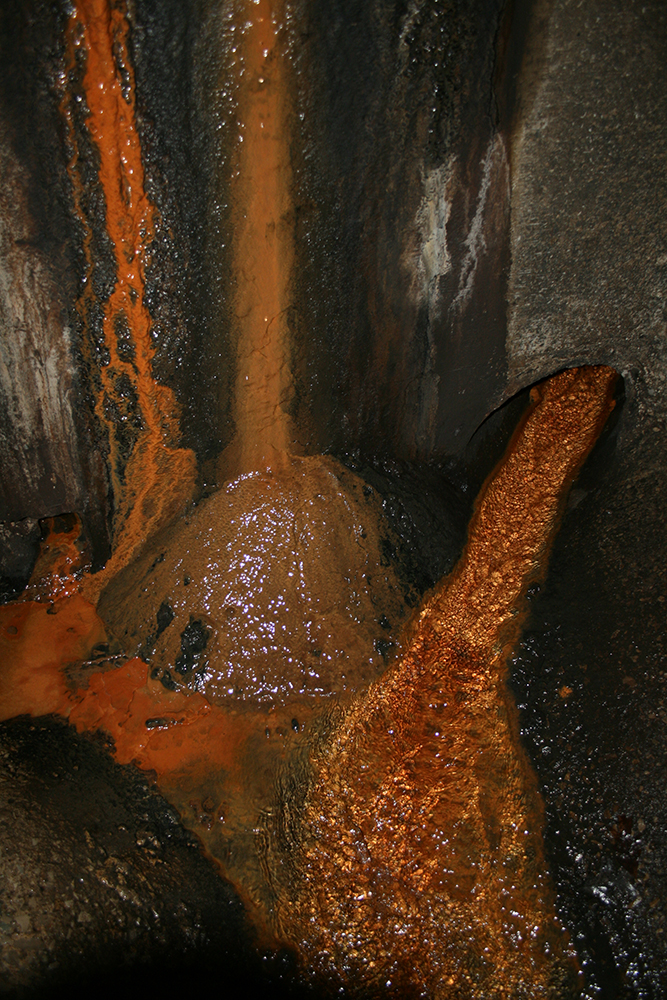 Sunday, September 12, 2010
The Sky Bank and Trust, aka State Bank or Wellston Bank was built in the 1940's and saw use as late as 2006 when it last functioned as a Regions Bank. It's hard to imagine it was being used that recently, however, considering that the decor appears potentially original and the basement is completely flooded. The overall condition suggests it had been vacant for much longer. Inside it is very dark and moldy. The floors are buckling from the humidity of a basement full of murky water and the giant steel safe doors are beginning to rust away.
It was demolished in the spring of 2014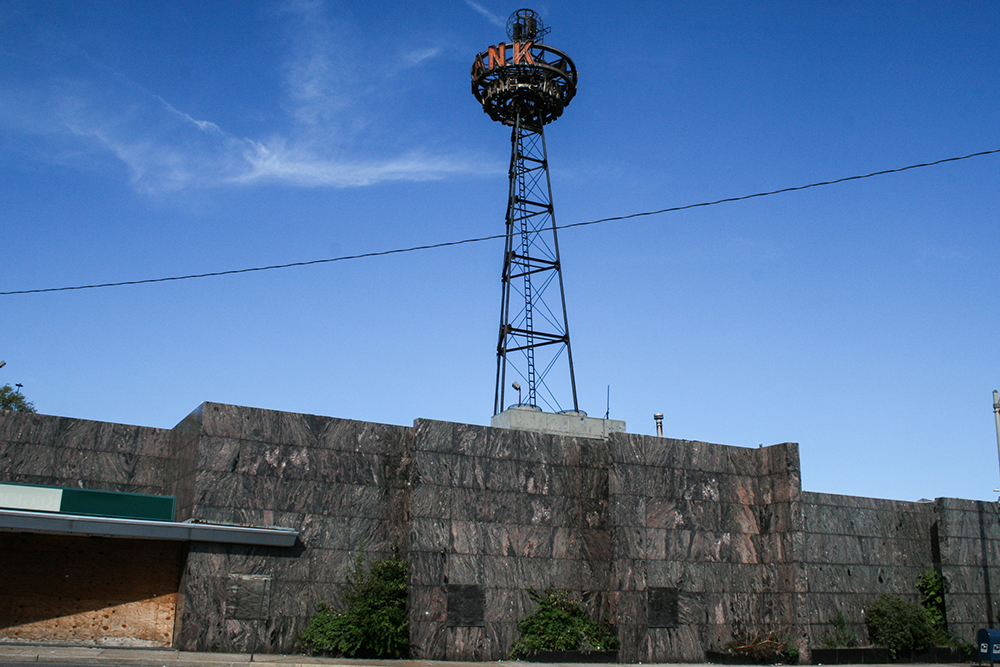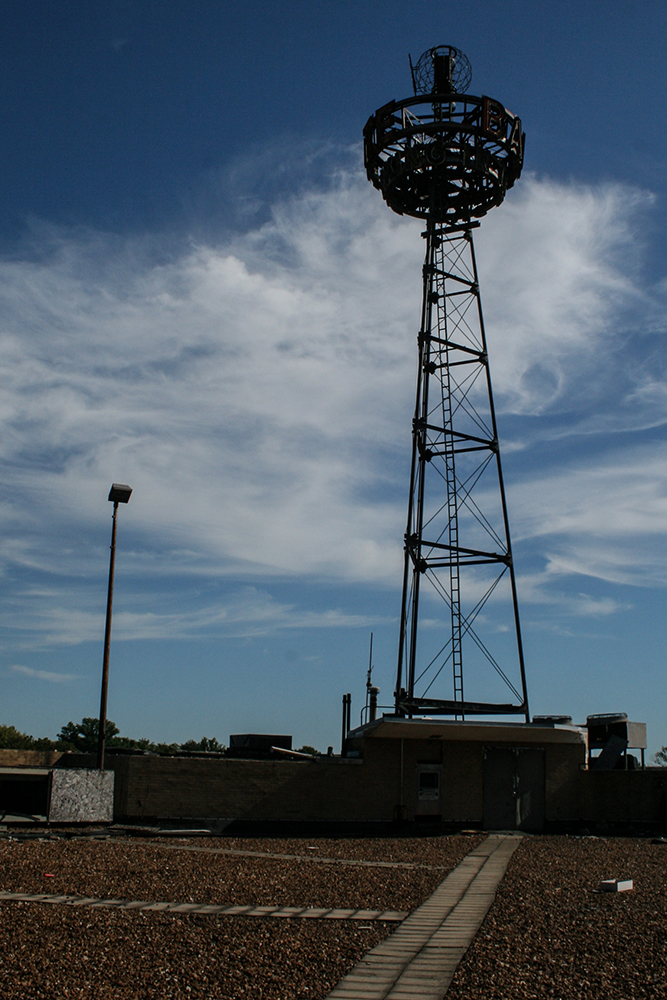 Rooftop Teller Windows = WTF?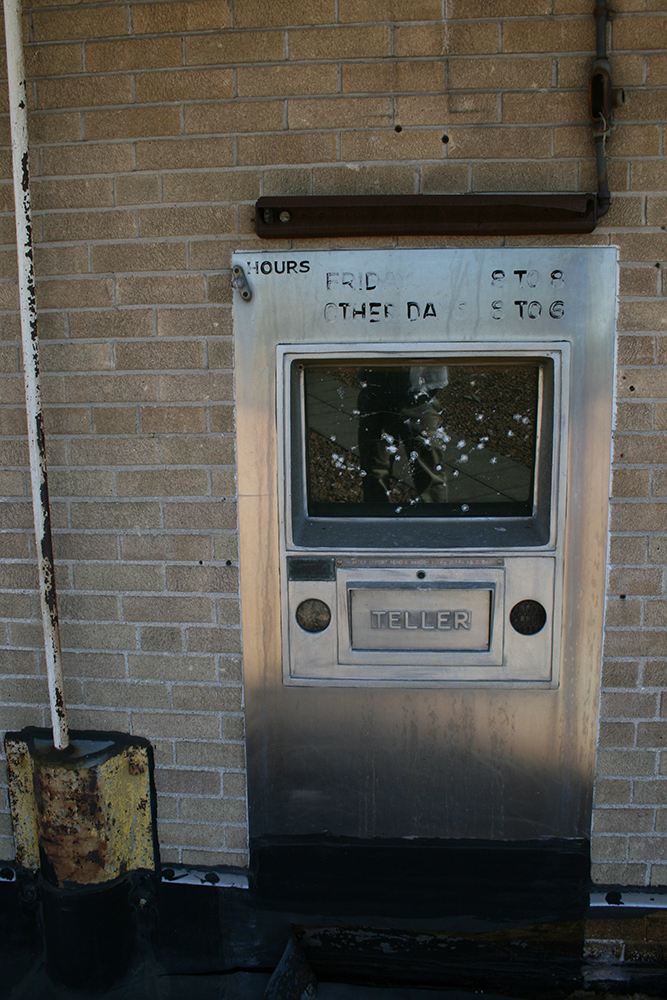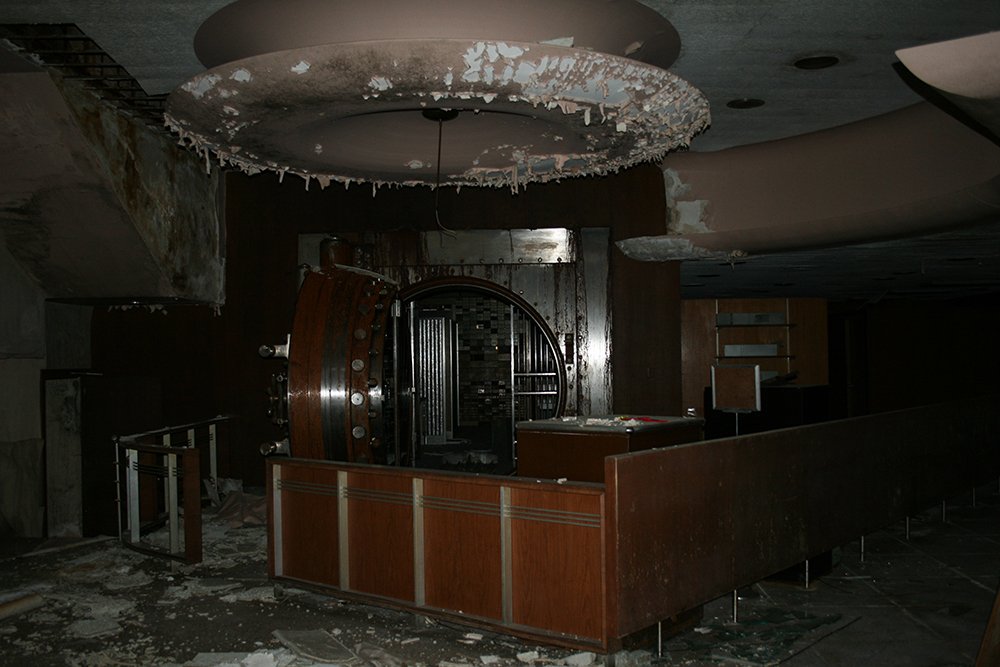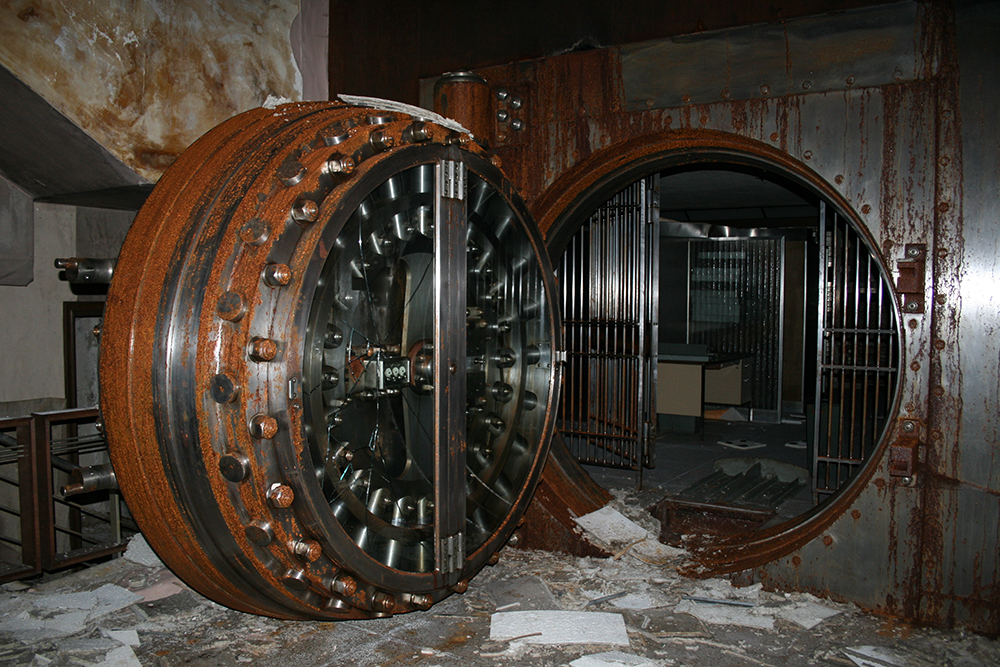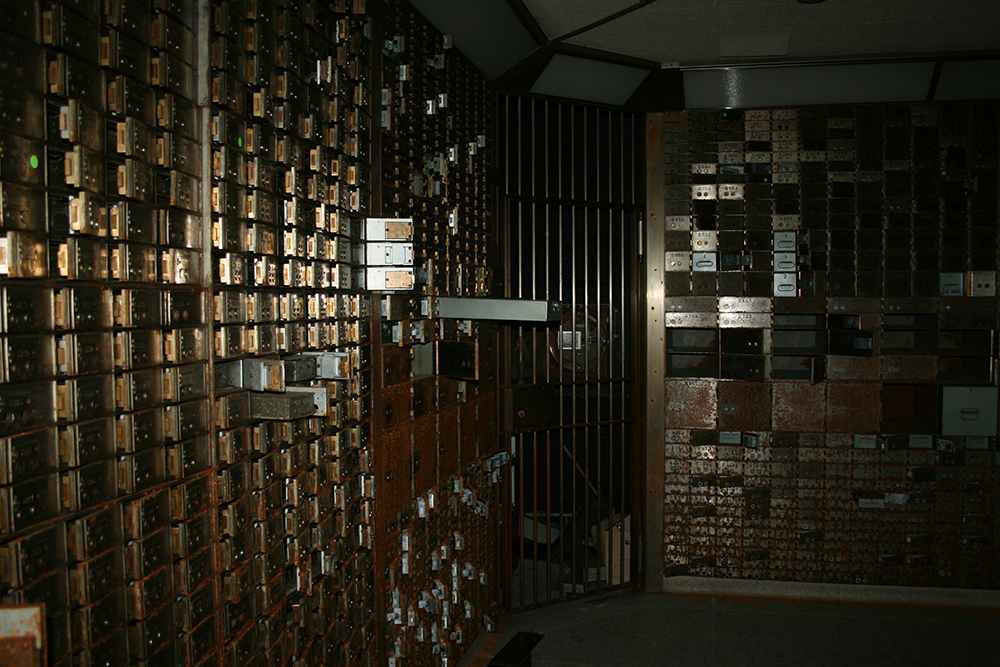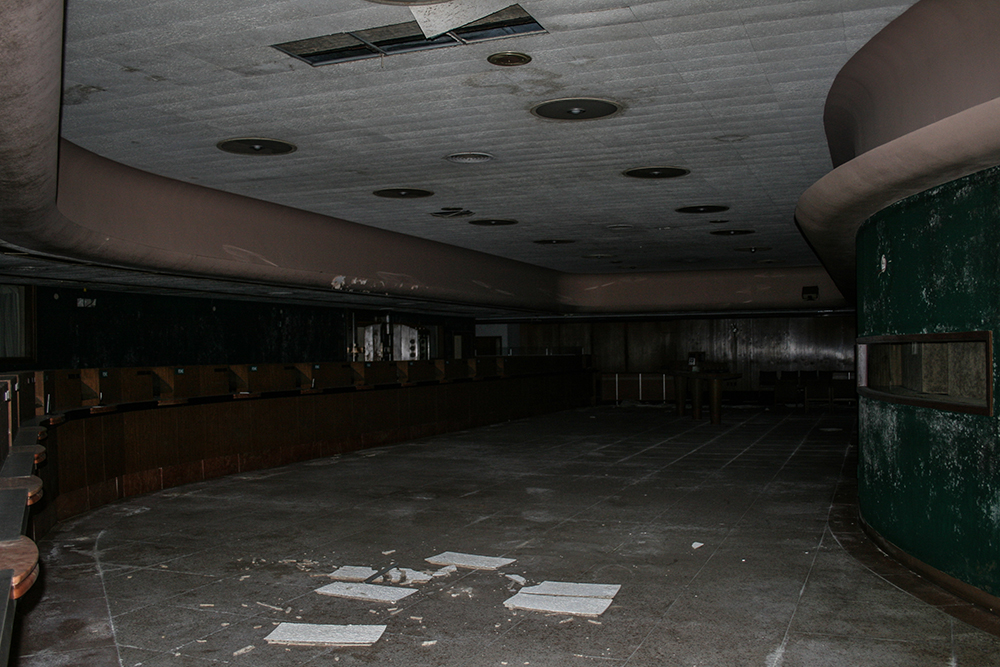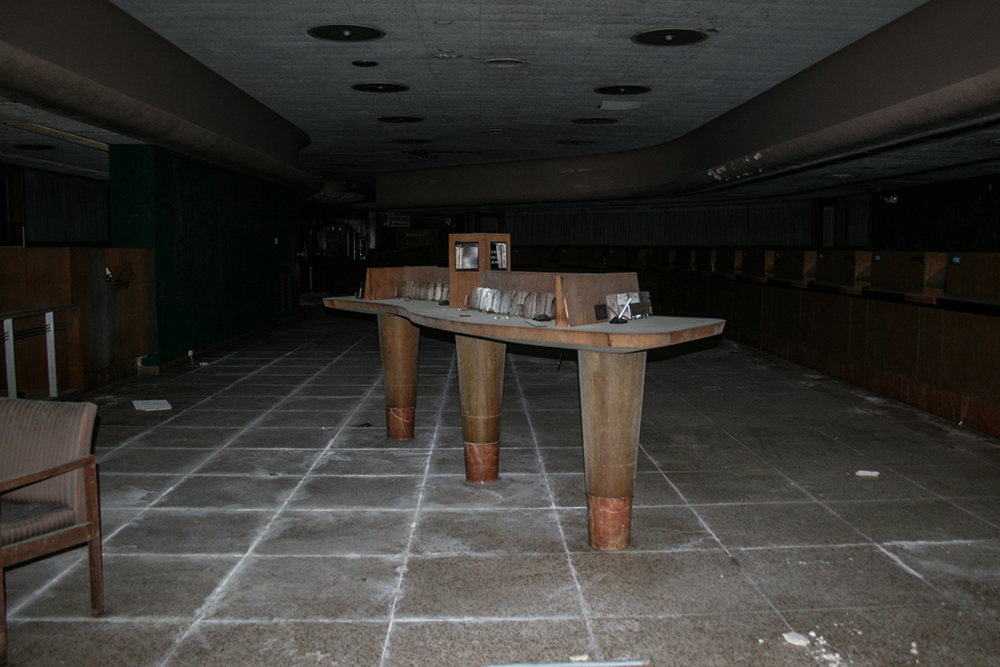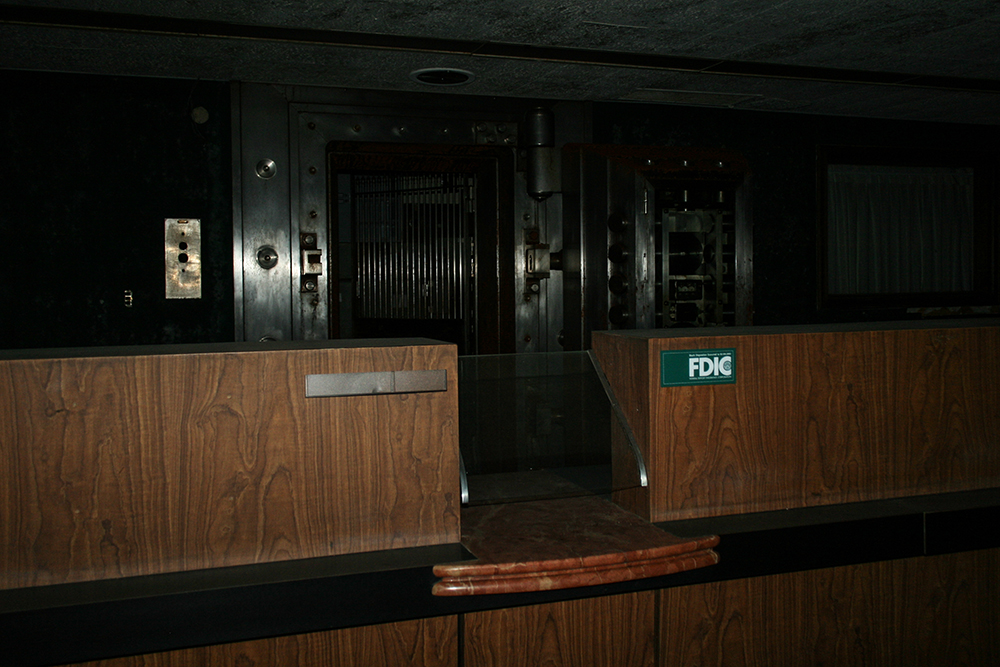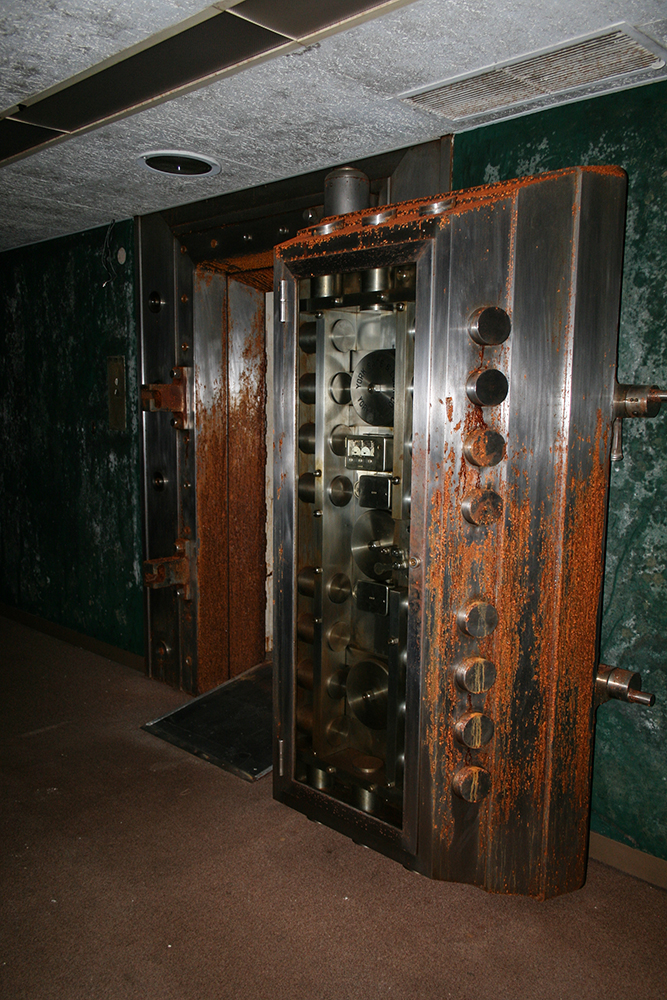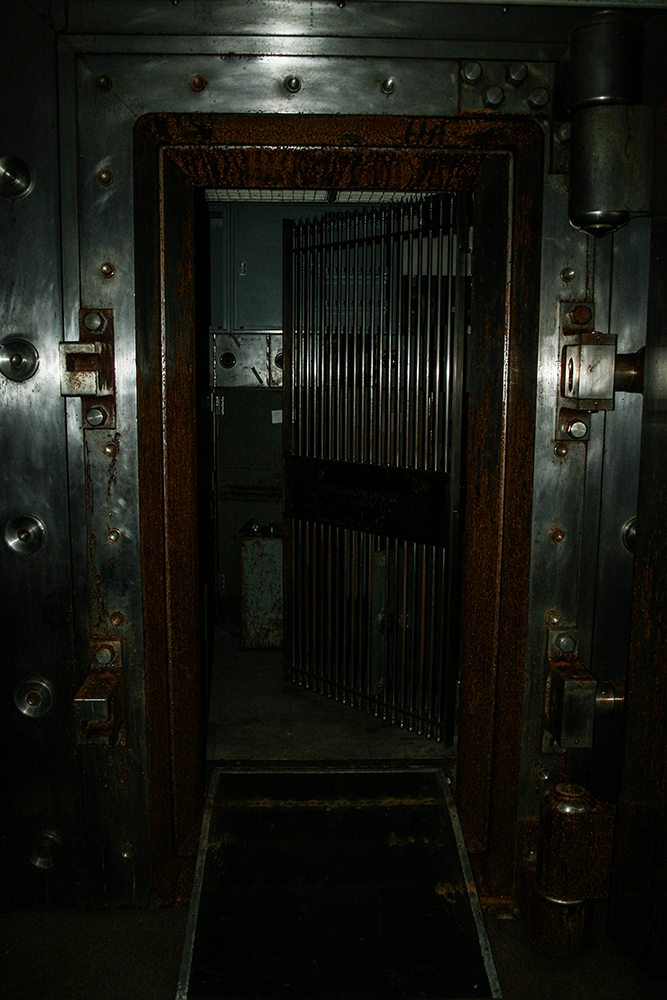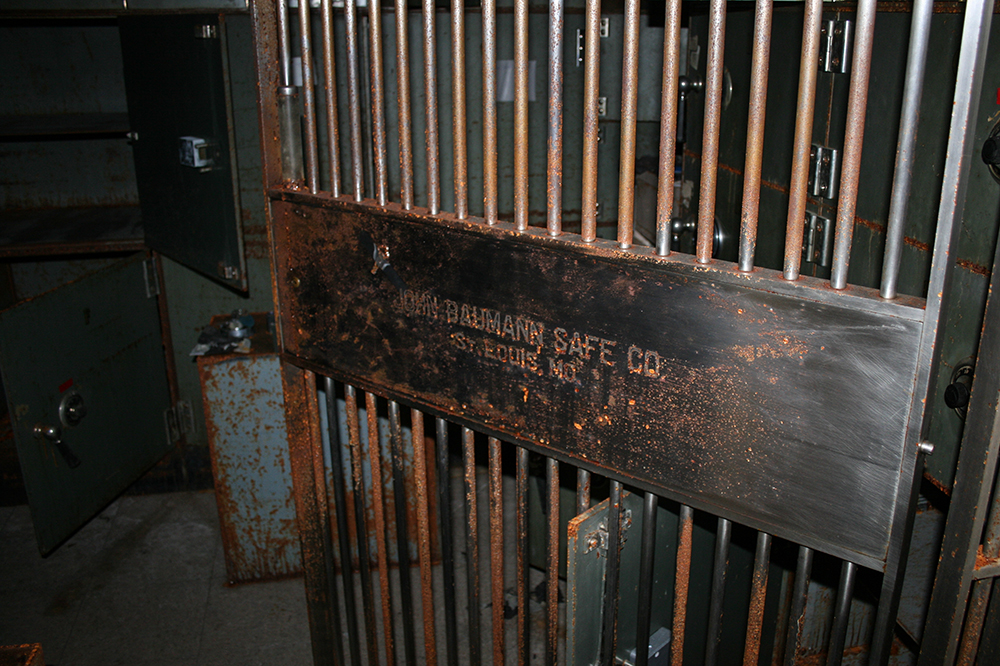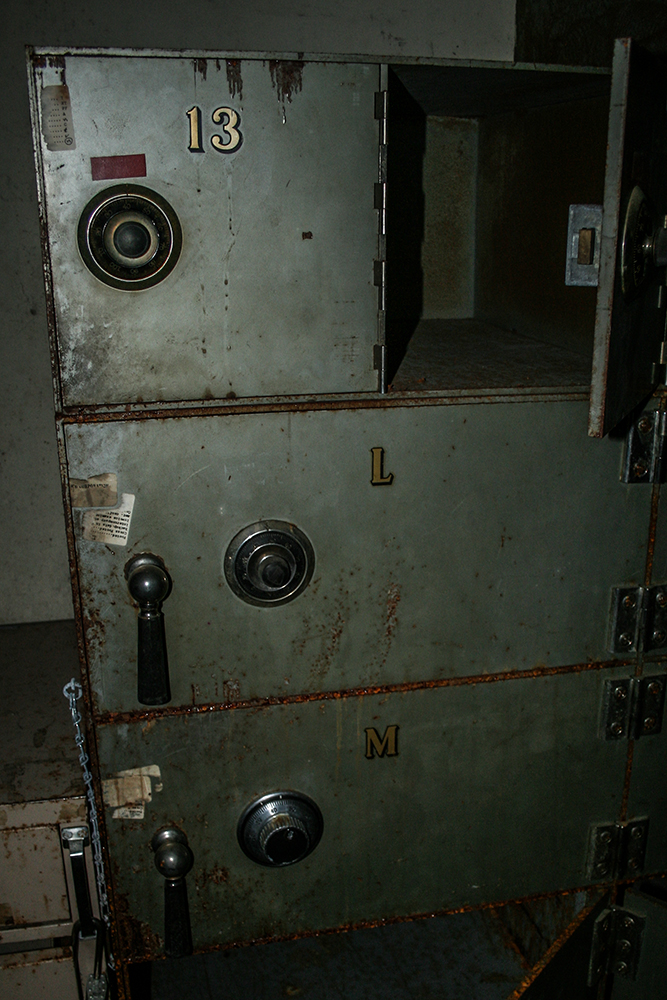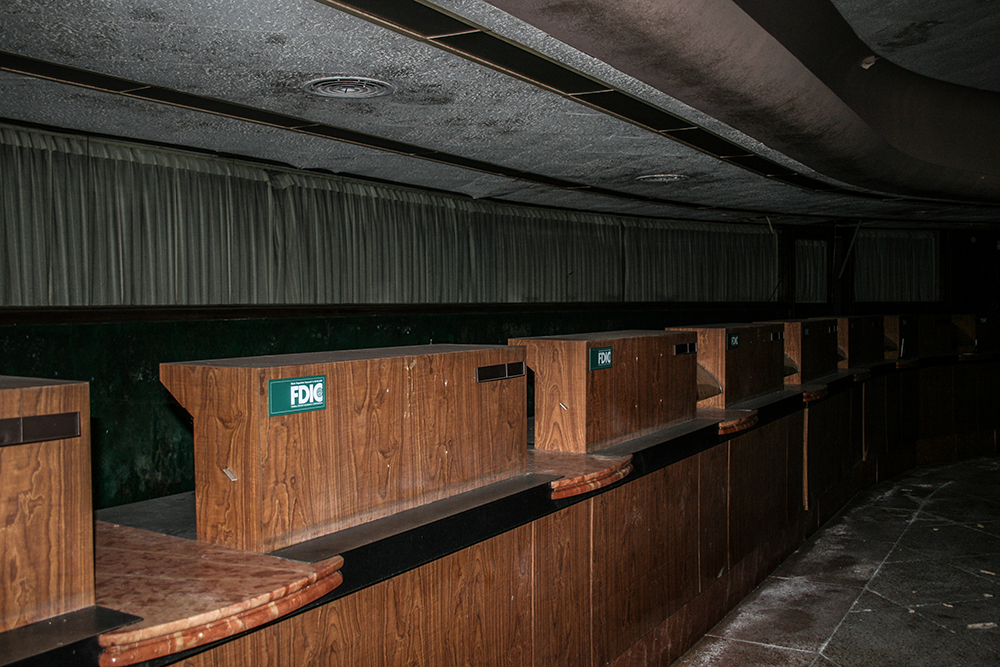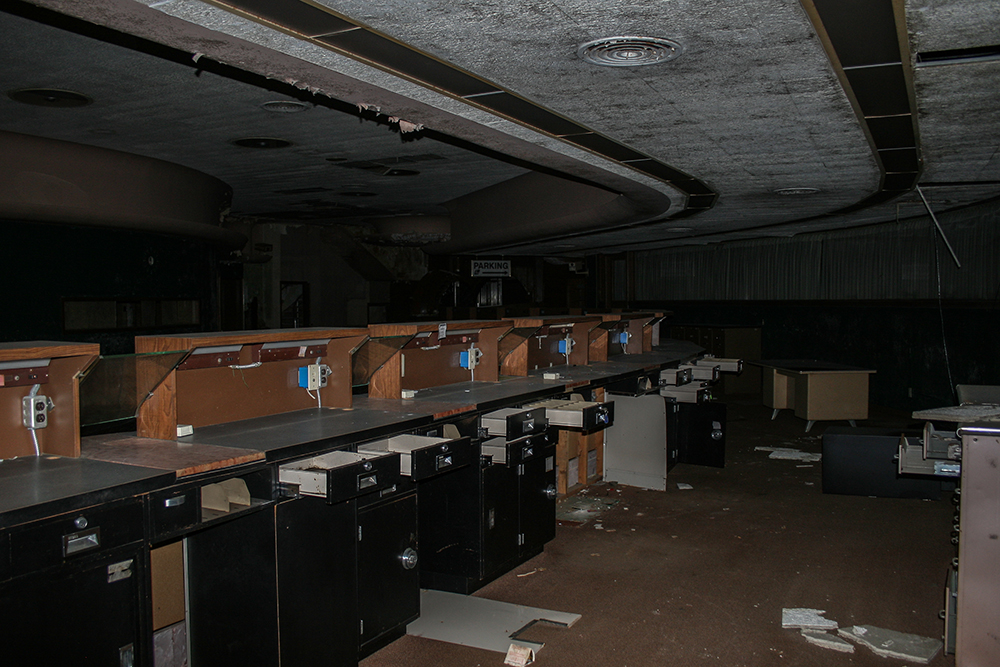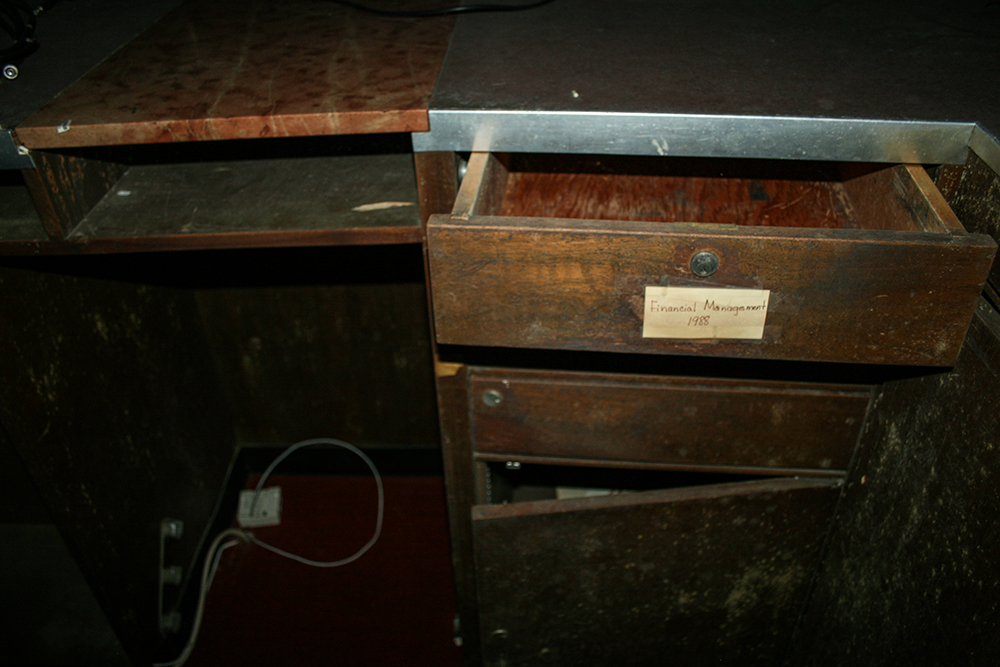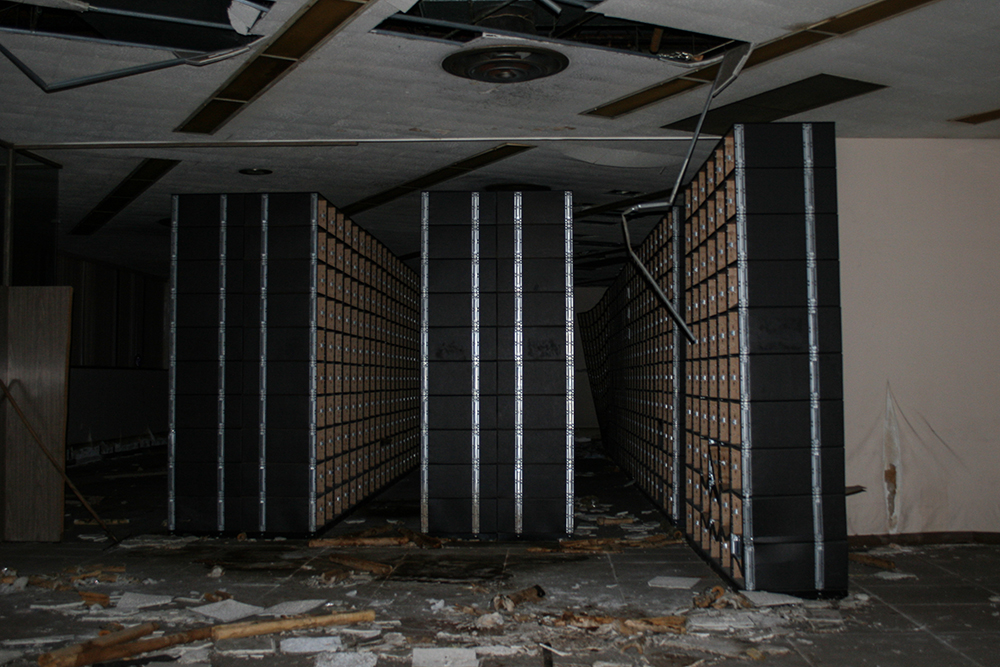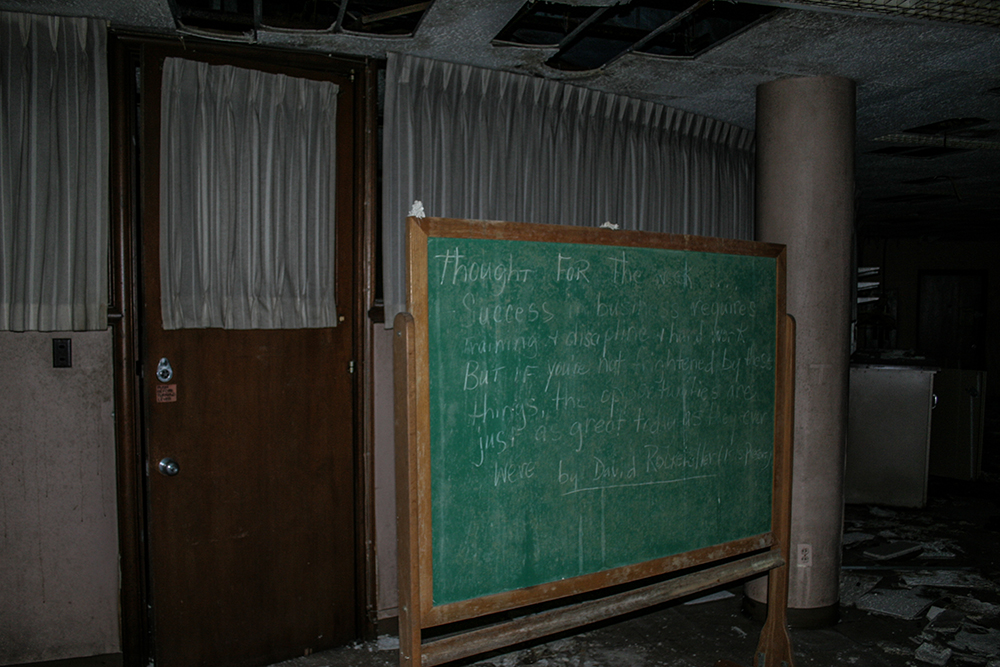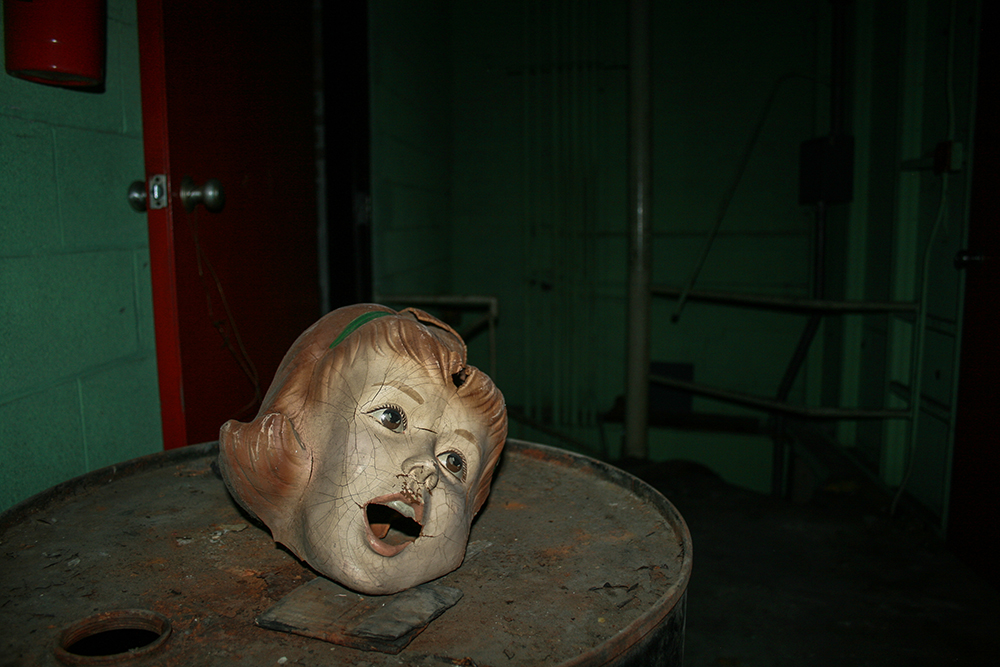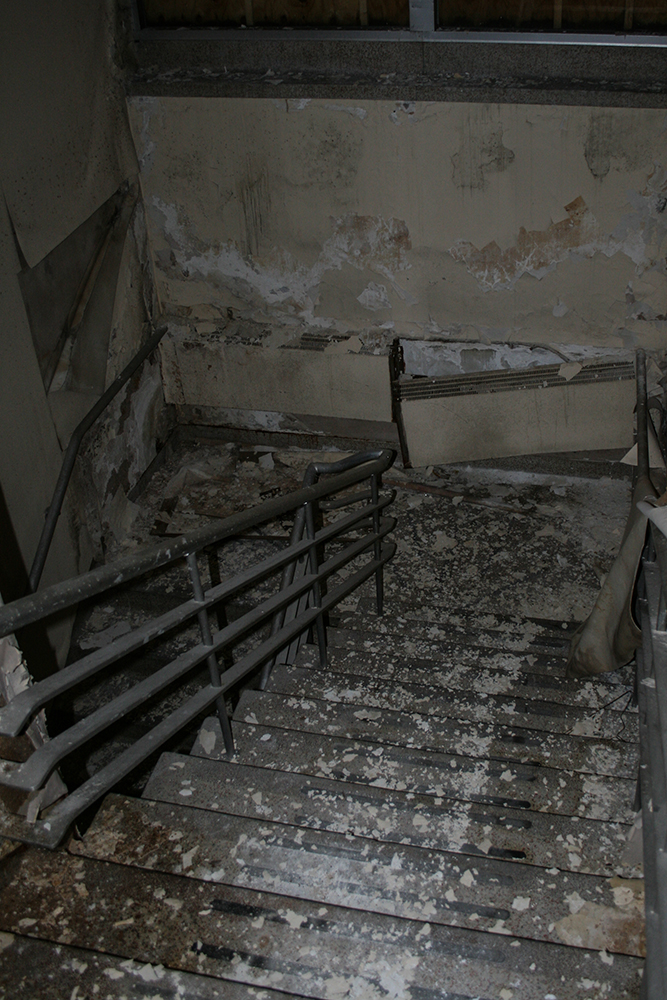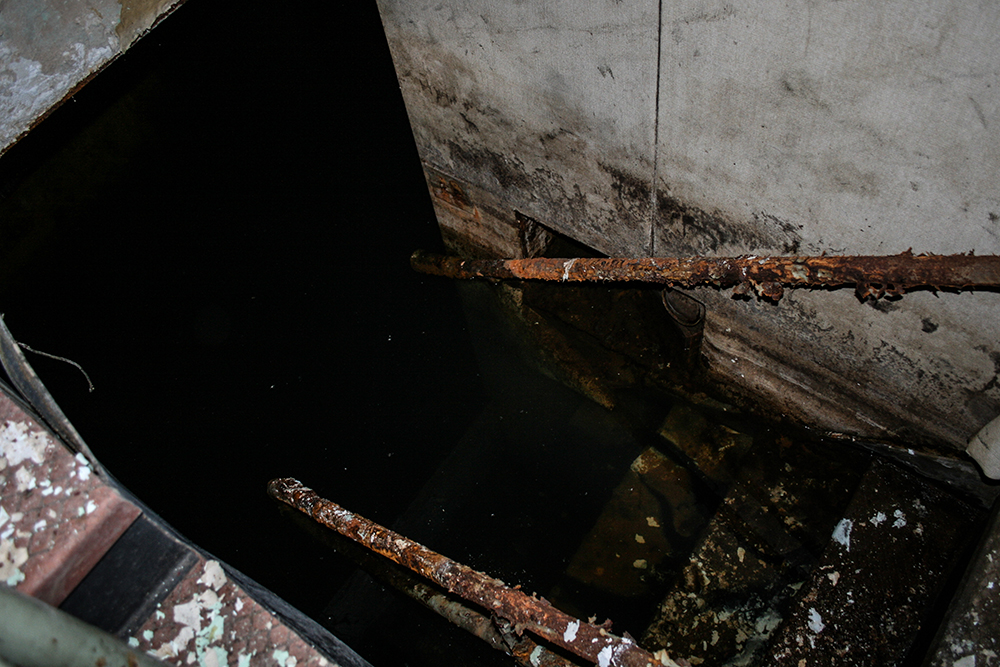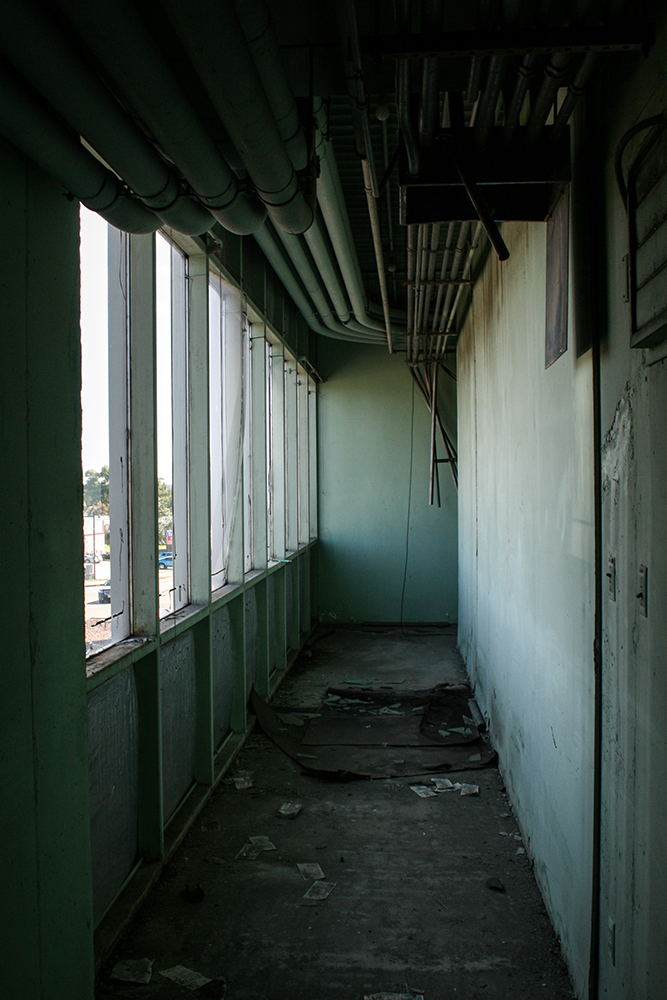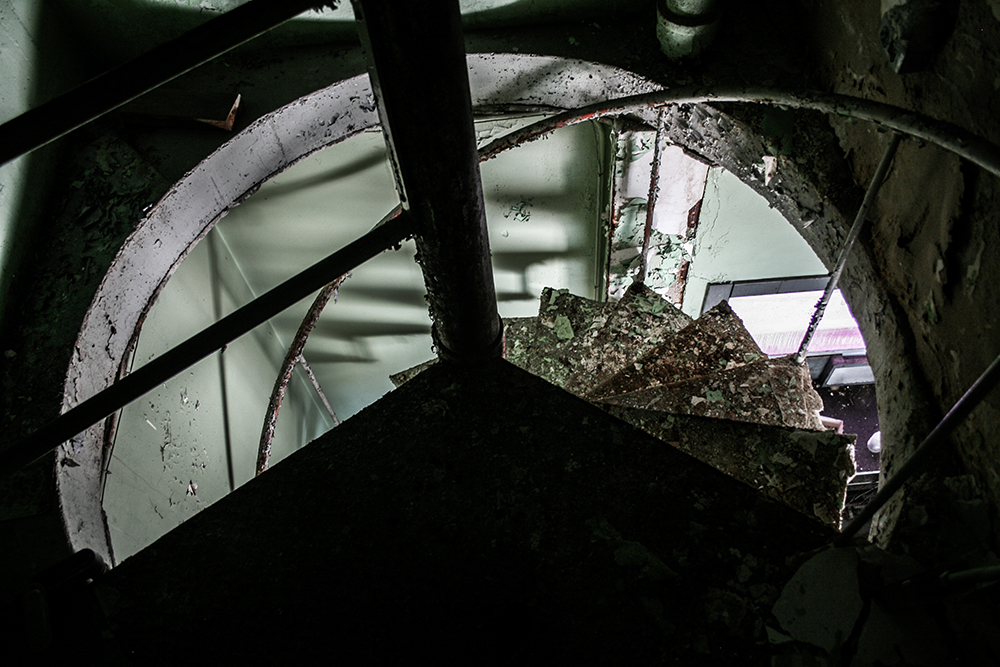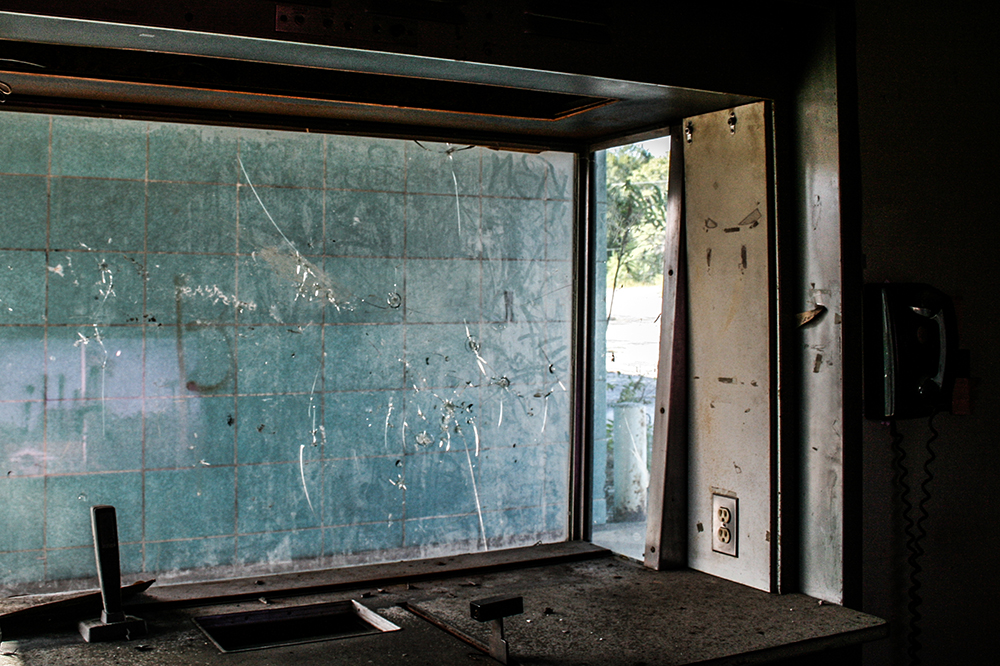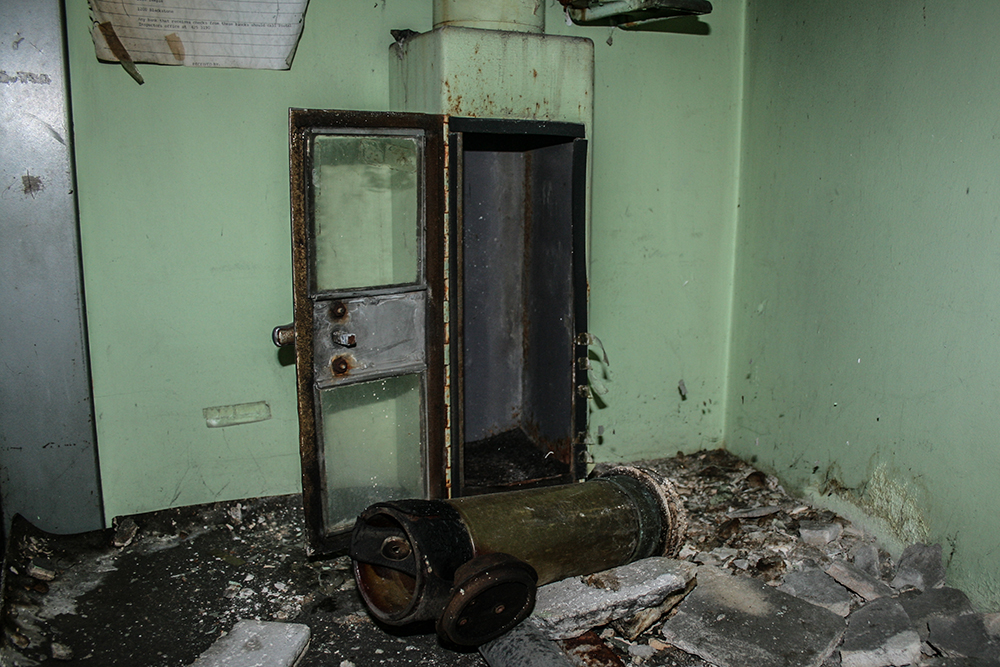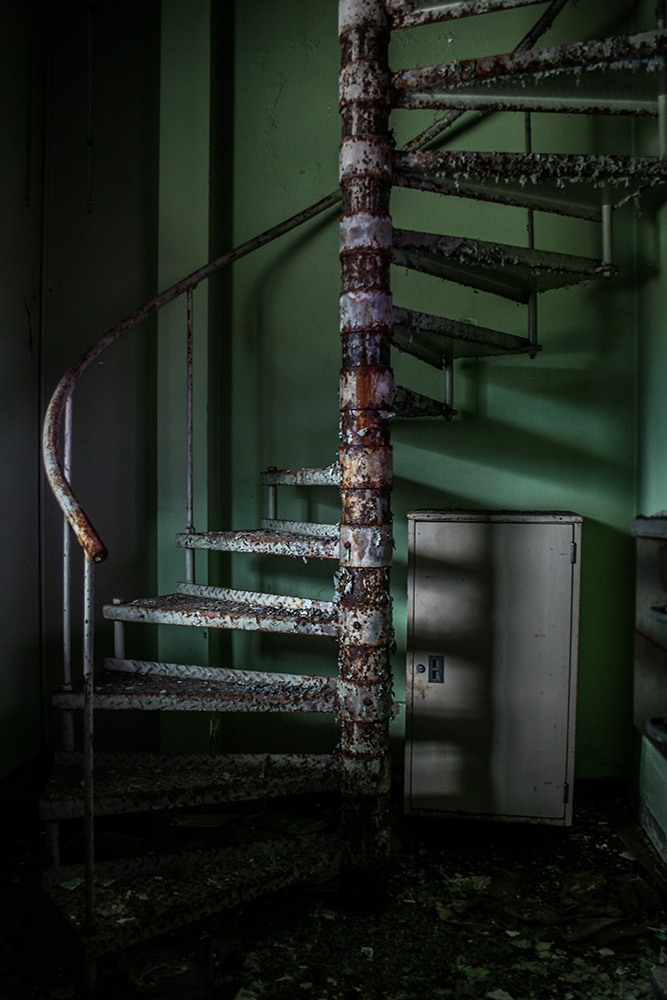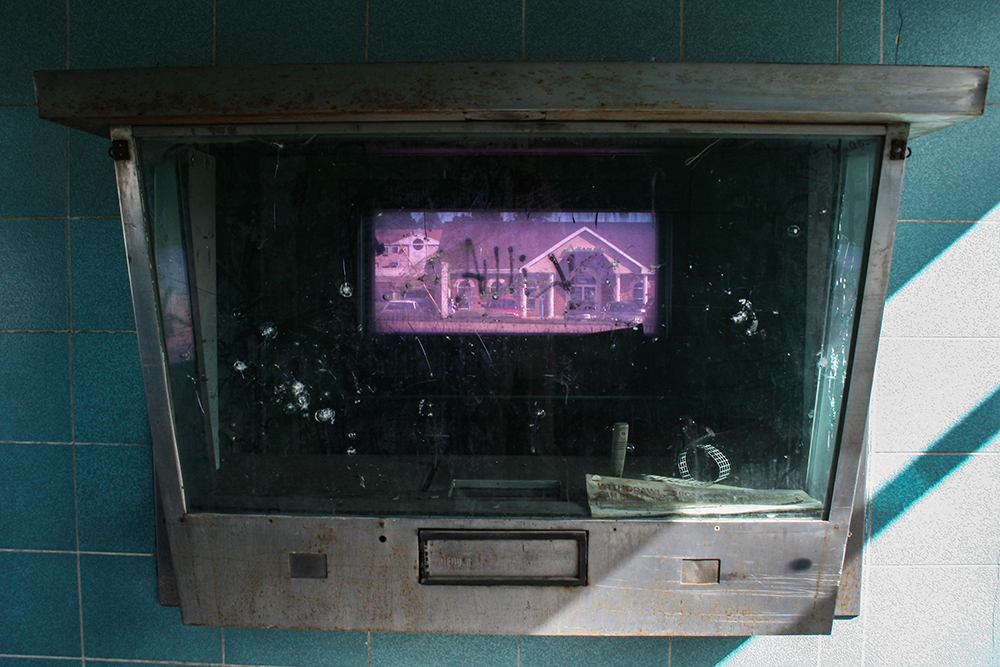 Monday, August 16, 2010
-San Francisco Trip Part Two-
On August 11th and 12th, 2010, I had the opportunity to visit San Francisco, California. This post is Part Two of a Two-Part trip report (See Pt. I here). After exploring the Marin Headlands in Northern San Francisco, including a trip down the side of a mountain through unidentified vegetation, I rushed over to Pier 33 in hopes of making it in time for the boat to Alcatraz Island...
Standing in line at Pier 33 was one of the rare moments in the trip that wasn't lost in a blur of rushing around from one place to the next. I checked with the desk and my spot was confirmed. I made it. Back at home before I left, I made the painful realization that Alcatraz was sold out for the duration of this trip. The infamous island prison that I had dreamed about since I was young was shutting me out. It wasn't until I had already left Saint Louis and was en route to San Francisco that my amazing girlfriend was able to snatch up a cancelled ticket as part of their first-come, first-serve policy. Alcatraz turned out to be the best part of the trip and one of my all time favorite locations that I've ever explored.
I did not set out to explore Alcatraz. I was just happy to be on this tour and I was going to enjoy it regardless... But then I came to my senses when I spotted a chance to break from the group and take my own self-guided tour. I didn't really have a choice though; Before I knew it, I was in an off-limits area of the island and needed to either proceed further in order to get out of sight or come back the way I came and sneak back into the group which in itself was risky. I chose the former and entered a structure whose hallmark was the familiar decay of neglected architecture, an environment strangely comforting and familiar to me. Alone, I carefully navigated through every accessible portion of the building and did my best to stay out of sight. But I failed to remain inconspicuous at one point and caught the concerned glance of a tourist. Her expression signaled to me that I might just be in trouble, so I went back into the structure to continue my adventures out of sight, hoping to not hear footsteps in some corner of the building that weren't my own. At least I would see the whole building before they come looking for me. I just happened to be passing by a window that faced the alley in which I was spotted when a Park Ranger entered the scene. I was extremely concerned at this point because I hadn't even been inside the prison yet and had hardly even seen much of the island at all. I was holding my breath, palms sweating as I watched him through an old window. I wondered if it was dark enough where I was that he couldn't see me from outside. I tried moving to expose less of my silhouette to the window, but my jacket was caught on some metal crap sticking out of the drywall. So I stood motionless awaiting whatever outcome fate would deal me this time. He didn't stay long, however, having only stopped to briefly look around, shine his flashlight in some corners and leave. Moments like these remind me that this is an incredibly stupid thing to do. But as soon as they pass, so does my cognizance of potential risk and I'm quickly back at it without the weight of trepidation that keeps most people securely planted inside their comfort zone.
After exhausting the navigable portions of this off-limits corner of the island, I decided that I had better see the prison before I get caught somewhere else and thus ruin my once in a lifetime chance to see the infamous Alcatraz that I came here for. I soon learned that the only way to get pictures of this place without herds of tourists ruining every possible shot is to be the only one there.